Visiting and Accessibility
Hamilton Artists Inc. strives to ensure all exhibitions, programs, events, and services are accessible to visitors.  Admission to the gallery is free.
Physical Accessibility, Mobility, and Assistive Devices
Our facilities are wheelchair accessible.
The front entrance and the courtyard is equipped with automatic doors.
Upon entering there is a ramp to the left of the doors.
Assistive devices are welcome in the gallery.
Please alert a staff member if any spaces are difficult to navigate.
Printed text in the gallery is a minimum of 12pt font size or larger.
There is seating available throughout the gallery.  If you need a place to rest a staff member will gladly find one for you.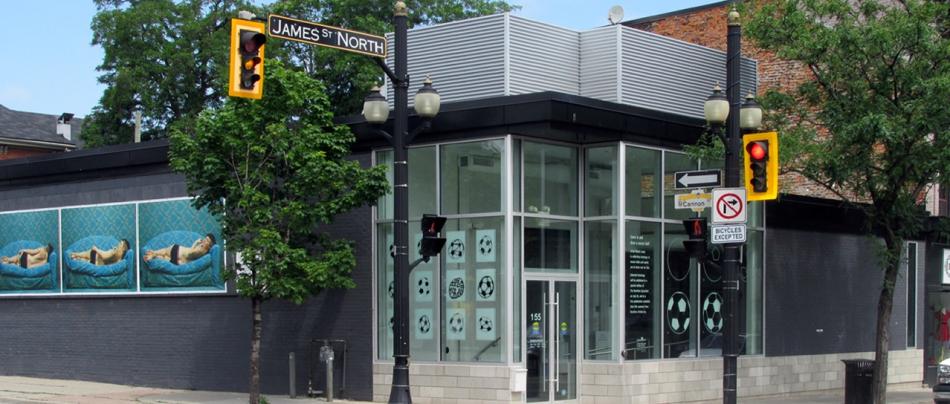 View of the front entrance from the corner of Cannon Street East and James Street North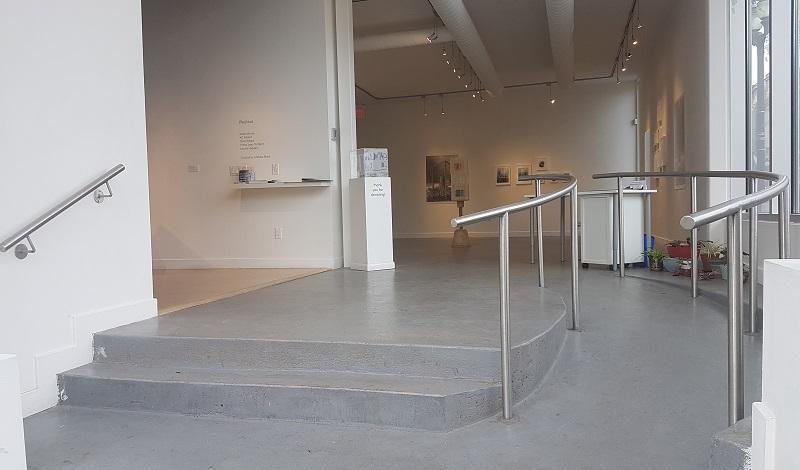 View of ramp from the front entrance, leading into the Cannon and James Gallery
Washrooms
The Inc. has two accessible, all-gender washrooms. The washrooms have automatic door buttons. Both washrooms are equipped with hand rails, needle/sharp disposal containers, and take-what-you-need tampons, pads, and condoms. A baby change table is available in one of the washrooms.
Service Animals and Support Persons
Support persons are welcome to provide any services needed in the gallery. All service animals are welcome in the gallery space.
Allergies and Sensitivities
Hamilton Artists Inc.'s staff and office operate under a scent-free policy including hygiene products and cleaning supplies. We encourage visitors to refrain from wearing scented products, but we cannot guarantee a fully scent-free environment in our public galleries. Please contact us before your visit, we would be happy to arrange accommodation such as a private visit.
Lighting
The lighting in the gallery may vary per exhibition and event. Please contact us if you have any questions or concerns before entering the space.
Children
Kids are always welcome in our space accompanied by their parents or guardians. We have a small selection of children's toys, books, and games available for kids to play with. Child-minding is often offered for free during our major events, such as exhibition receptions. Please check our website for the event details or contact us prior to your visit to see if child-minding is being offered.
Online Programs
Events and programs being hosted in zoom have live captioning. Chat and non-verbal communications tools are always enabled in zoom. Workshops or artist talks livestreaming on facebook will not have live captioning. Most are recorded and posted to our YouTube channel afterwards with closed captioning. ASL interpretation is available for some programs. Please check the event details or contact us to confirm the accessibility measures for each event.
Driving and Parking
Cannon Street is a one way street going westbound. There is no onsite parking at the Inc., however there is street parking along Cannon and James Street and a municipal lot on Cannon Street directly across from the Inc.
Parking rates range from $2-$8.
Map of municipal parking lot accessible through Cannon Street:
---
Contact: Sanaa Hamayun, Programming Director
Phone: (905) 529-3355
Email: programming@theinc.ca
Please contact us if we can do anything to make your visit more comfortable.