- / The Inc.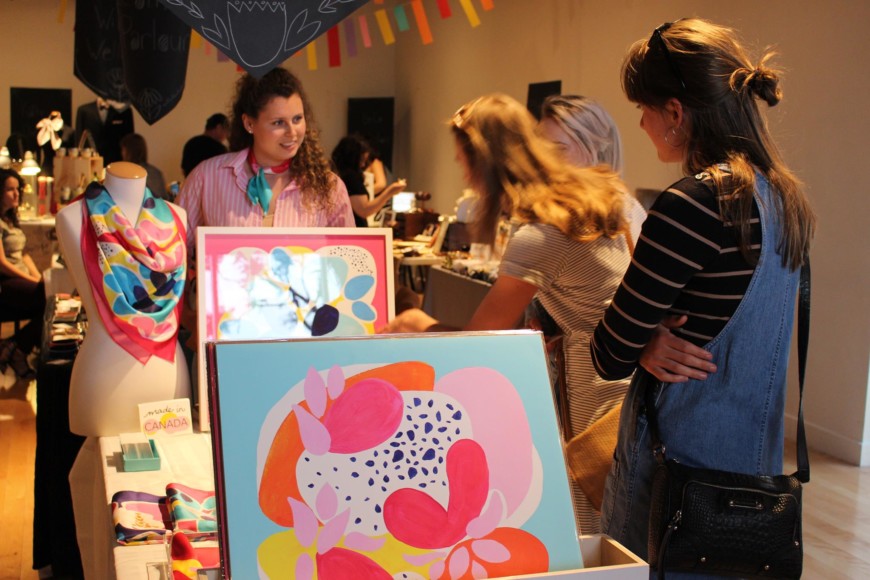 Photo: Vendor Katie Fortier at our Spring Craft Mart 2017
Fall Craft Mart 2018
Dates:  Friday, November 9th (during Art Crawl), 6:00 – 11:00 pm
Saturday November 10th, 12:00-5:00pm
Location: Hamilton Artists Inc., 155 James Street N
RSVP to Craft Mart on Facebook
Hamilton Artists Inc. is pleased to announce the return of its bi-annual Craft Mart*. Craft Mart* is a curated pop-up art, craft and design market that hosts talented and avant-garde makers. Its aim is to bring together the talented work produced by artists, crafters and designers from across the region and beyond. Since its inception in 2013, Craft Mart* has grown into a highly anticipated market showcasing some of the best makers from across disciplines. Craft Mart* features the very best in jewellery, prints, ceramics, toys, clothing, accessories, housewares and apothecaries from artisans from Hamilton and the surrounding regions. Located at Hamilton Artists Inc. in the heart of the art district, at the corner of James and Cannon, Craft Mart* will be open to the public during an Art Crawl weekend.
Visiting and Accessibility:
Hamilton Artists Inc. is located at the intersection of James and Cannon streets in a fully accessible facility. Our washrooms are gender-neutral. Please call 905-529-3355 or email Programming Director, Abedar Kamgari, at programming(at)theinc.ca if we can do anything to make your visit more comfortable.