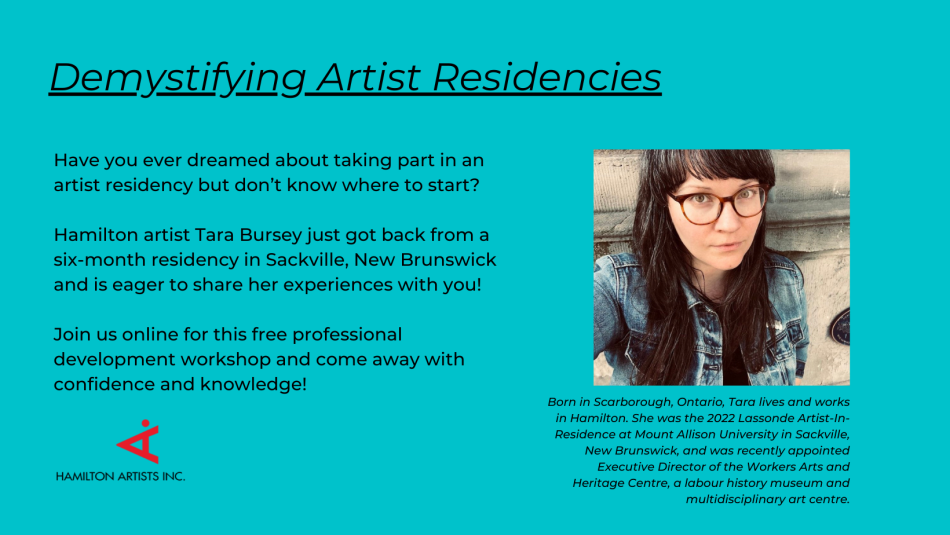 Demystifying Artist Residencies with Tara Bursey
- / The Inc.
September 13, 2022 from 6:00pm-8:00pm (online)
Have you ever dreamed about taking part in an artist residency but don't know where to start? Do you worry about putting all the puzzle pieces in place to allow yourself to make art away from home for a week, a month, or more? Hamilton artist Tara Bursey just got back from a six-month residency in Sackville, New Brunswick and is eager to share her experiences with you!
In this workshop, Tara will discuss the types of residency opportunities available to artists, where to learn about them, tips for crafting an appealing proposal, and how to set yourself up for a rewarding time in the studio, and in community. Importantly, Tara will discuss the logistics of carving the time out of your life to be an Artist-in-Residence—a difficult thing for working artists with day jobs, partners and caregiving duties to navigate.
Update 10/01/2022:
You can find the Powerpoint Presentation and Shared Resources document from this professional development workshop below:
---
ABOUT THE FACILITATOR:
Tara Bursey is an interdisciplinary artist, self publisher and arts worker. Her work has been exhibited across Canada as well as in Copenhagen, Berlin and Eye, Suffolk, UK, and she has presented her artistic research in the areas of textiles and contemporary art at Symposia in Los Angeles, Sackville and Savannah. She is perhaps best known for her rigourous work in the areas of programming and education, which has included bringing arts education to first and second graders at her neighbourhood school, developing innovative youth outreach programs in partnership with hospitals and service providers, and curating exhibitions about zines, trade union banners and wrestling.
Born in Scarborough, Ontario, Tara lives and works in Hamilton. She was the 2022 Lassonde Artist-In-Residence at Mount Allison University in Sackville, New Brunswick, and was recently appointed Executive Director of the Workers Arts and Heritage Centre, a labour history museum and multidisciplinary art centre.
---
Our Professional Development Workshops are made possible through funding support from the Incite Foundation for the Arts and the Canada Council for the Arts.