- / The Inc.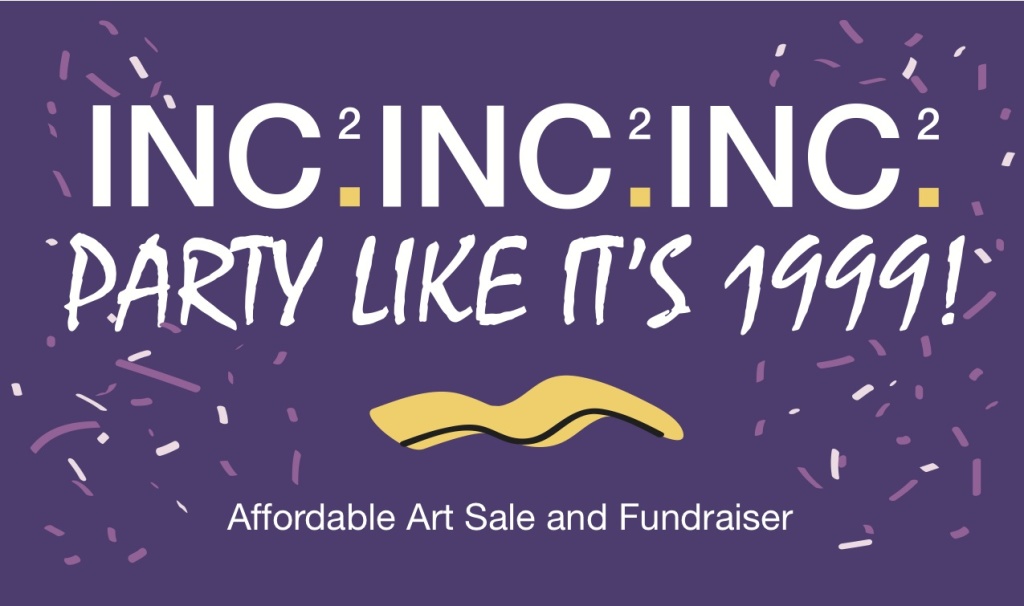 Hamilton Artists Inc.'s 4th Annual
Inc. Squared Fundraiser
Saturday, June 4th, 2016
7:00 pm - LATE
Support your artist-run center by joining us for our annual Inc. Squared fundraiser! An evening of art, music, knick-knacks, dancing, and good times with friends! Featuring original ART FOR SALE by our talented and generous members (all priced at $100), with all proceeds going towards Inc. programming. We are also pleased to announce the return of Photophobia, a contemporary moving image festival co-presented with the Art Gallery of Hamilton which leads to our official Inc. Squared theme announcement:
Party like it's 1999!
Looking for an opportunity to wear those JNCO jeans again? Yes? Really? Okay. To celebrate the return of Photophobia (est. 1999) we're going back to the nineties for this year's Inc. Squared annual fundraiser. Throw an unbuttoned shirt over that graphic tee and come party like you're honestly a little worried about Y2K!
The Details:
The evening is comprised of three main events. Attend one or all three! (We recommend all three).
Small Works Pre-Sale and Knick-Knack Throwback Silent Auction
7:00 - 9:30 pm - Ticketed
Attend early to get first dibs on works created by our talented membership and participate in our popular Knick-Knack Throwback Silent Auction. All works are priced affordably at $100 and will be sold on a first-come, first-serve basis. Don't miss out! This cocktail party style portion of the evening will include delectable complimentary hors-devours, and signature cocktails.
Tickets are priced as follows:
Underemployed/ Student: $10
General Admission: $20
Golden Ticket: $50 - Includes limited edition Inc. Squared artist multiple by Daniel Hutchinson. Only 20 tickets available!
Tickets can now be purchased on Eventbrite
Photophobia: Contemporary Moving Image Festival Screening
9:30 - 10:30 pm - FREE

The Art Gallery of Hamilton and Hamilton Artists Inc. are pleased to announce the return of Photophobia, an annual festival of short-format contemporary media, film, video and moving image. Established in 1999, Photophobia was Hamilton's first film and video festival dedicated to the development of experimental time-based media at a time when there were no such platforms in the Hamilton community. After eight years, the Art Gallery of Hamilton and Hamilton Artists Inc. are once again partnering to showcase contemporary practitioners who test the boundaries of the medium. Not confined by restrictions or themes, Photophobia is a free, two-part screening series presented under the cover of night. The first screening of Photophobia 10 will be presented Saturday June 4, at 9:30 pm in Hamilton Artists Inc.'s ArcelorMittal Dofasco Courtyard (155 James St. N., Hamilton, ON). The second screening will be presented June 23, at 9:30 pm in the Art Gallery of Hamilton's Irving Zucker Sculpture Garden (123 King St. W., Hamilton, ON).
Participating artists and program will be announced shortly. Stay up to date by checking our website or like the Photophobia facebook page.
* Note: limited seating will be provided. Feel free to bring a lawn chair or picnic blanket
90's Dance Party featuring DJ Tyler Kyte (from Dwayne Gretzky)
10:30 pm - LATE
um.... PARTY LIKE IT'S 1999! (Pretty self explanatory.)
---
CALLING ALL ARTISTS!
Would you like to support us even more than through just attending the party? Consider donating to our Knick-Knack Throwback silent auction or support your artist-run centre by creating and donating a work of art to the gallery. All proceeds benefit upcoming programming and operations within the gallery.
Each participating artist will receive one FREE ticket to the event.
GUIDELINES:
Knick-Knack Throwback:
We're looking for curious, strange, nostalgic objects for our annual Inc. Squared fundraiser! A favourite part of the evening is our one-of-a-kind knick-knack silent auction. If you want to help support your Hamilton Artists Inc., do a little digging in the attic and drop off your knick-knacks during regular gallery hours!
Artwork:
- The Inc. will supply a pre-cut ¼ inch plywood board with hanging hardware for those who require material (ready for pick-up at the gallery now!) OR, you are welcome to bring in your own work as long as it abides by the specifications below. If bringing your own, please make sure it is framed and/or prepared to hang/ be displayed.
- This is a small works fundraiser. As such works should be roughly 12"h x 12"w, with a maximum depth of 12" Please note that your work may be smaller than 12"x12"x12" (keep in mind the work will be priced at $100).
- Each artist is asked to submit ONE piece only.
- Finished works are to be dropped off during gallery hours between the dates of Wednesday June 1st and Thursday, June 2nd along with a completed and signed submission form. If you are unable to deliver your work to the gallery on these dates, please contact gallery staff to make alternate arrangements.
Join us in celebrating our 40-year-plus history, while helping us fundraise towards a bright and sustainable future. We'd like to think that since our inception we've continued to be a pivotal centre for contemporary visual art in Hamilton and beyond. By attending and supporting us through this event, you will be helping us present challenging contemporary exhibitions, stimulate critical dialogue, and foster local artist initiatives for years to come.
Thank you in advance for your participation and support! We can't wait to celebrate with you!