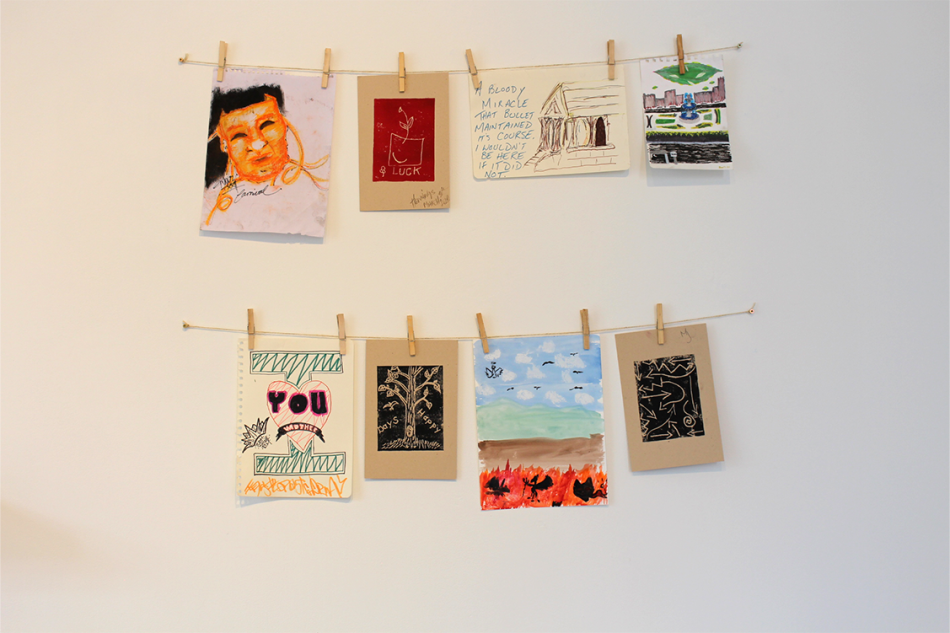 Keeping Six: Artists on the inside, living in the outside
- / James Gallery
Pop-up Exhibition on view from May 21 to 28, 2022
In January 2020 Keeping Six started an art drop in at The Aids Network, an offshoot of the regular weekly K6 drop in. It only lasted a couple of weeks before we had to close due to the pandemic. The pandemic really pushed us out into the community in a way that I don't think would have happened so quickly under regular circumstances.  What the Arts Collective looks like now is an art drop in at Wesley Day Centre three times a week – offering free art and writing supplies to any one, weekly focused art workshops at The Music Hall, a writing group that meets once a week at the library and dance empowerment once a week.
Art is something that connects people. It is an access point, sitting down at the Wesley we can talk with each other about art in a way that is just about sharing stories. So many people just want to talk, to have someone listen to them, to feel valued. There is inherent worth and dignity in every living being
---
Keeping Six Arts Collective:
Alan, Amanda, Amber, Ammy, Cameron, Cynthia, Dani Delottinville, Daniel, Darcy, Douglas, Dustin G, Dutch, Ella, Hannah, Heather, Jammy, Jay J, Jody Ans, Karen, Kristen, Malcolm, Mallory, Mike P, Minnie, MJ, Noel, Patrick, Paula, Randy, Rusty, Shannon, Sherri, Storm, Suzie, Talon, Tara Lynn, Tyler, Tyrone, Wes.
---
Meaningful statements:
When asked about his interest in doing art at K6, one participant, MP, a 42-year-old male community member put it plainly, stating: "I am an artist", as if the rationale to attend was so obvious.
"That's one of the reasons why I'm doing this, drawing, 'cause I don't want to lose my mind because some people are stupid in the world, you know what I mean?"  
- a 39-year-old male community member
"They told me I could I could get off the street and do some art work- keep my mind busy. It was helping me, it was helping me with my depression." 
- a 28-year-old female community member
"I saw people doing art and I like to do art and I hadn't done it in a long time…and it just kind of like brought back good memories for me…I I focus more on my art than the bad things that are happening in my life like poverty, you know, or somebody sick or my mom passing. Since my mom has passed, there's been a lot of drawing."  
- a 61-year-old housed and employed female community member
"I just, I disappear. There's a lot of shit that I deal with, mentally big time in my head, and when I draw, I drift away and so, it's my it's my medicine, myyyy, I don't know- it's everything to me." 
- a 36-year-old male community member
"Ummm, it actually speaks to how I want my life to be. I want it to be open. I want it to be carefree. I want it to be playful. I want it to be colourful….I want it to be kindred, ummm, ah and and and a tad mischievous!…because, you know, pixies and fairies are known to be mischievous…and free and, you know….magical." 
- a 40-year-old housed male community member
---
Keeping Six – Hamilton Harm Reduction Action League is a community-based organization that defends the rights, dignity, and humanity of people who use drugs. It was formed in response to the ravages of the opioid crisis, and out of recognition of the need for an organized voice for people with lived and living experience of substance use at the many stakeholder tables, attempting to manage and overcome the drug epidemic in the city of Hamilton. Our membership is primarily people with lived experience of drug use and those who love and care for them.
---
Keeping Six would like to acknowledge their partner organizations: the Wesley Day Centre, CMHA Hamilton, Hamilton Community Foundation, and The Aids Network.