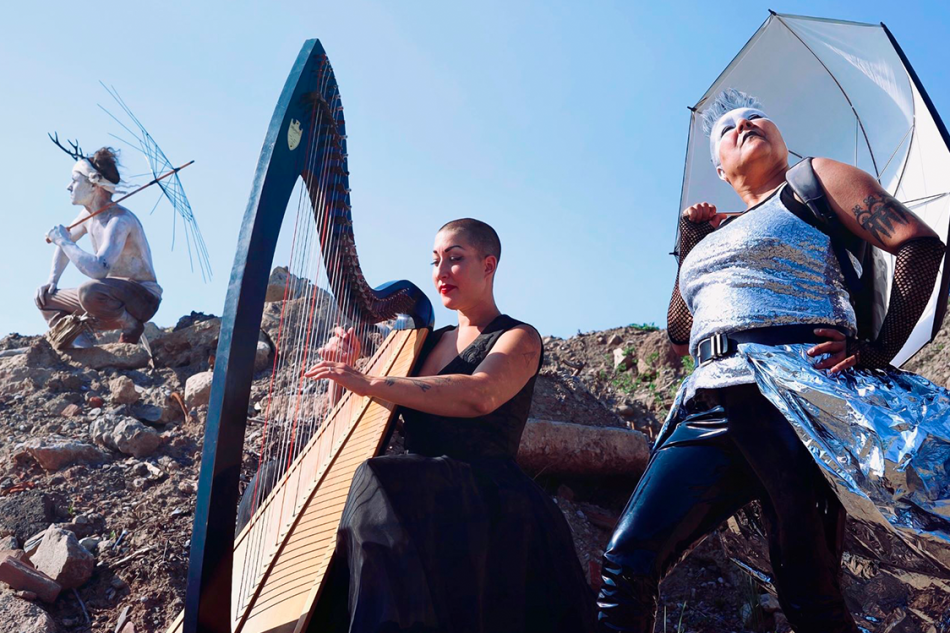 Online Screening: "Monologue Harmonic"
- / Online - Zoom
We are thrilled to present Monologue Harmonic, a video poem produced by Janet Marie Rogers and Bawaadan Collective. Monologue Harmonic is a seemingly paradoxical visual and sonic offering speaking in part from legend, despotic visions, collective cultural analysis, and individual repeal. Featuring two distinct and intrinsically connected worlds, we witness a spiritual journey so thinly tethered to life familiar, being lured by dark matters towards total disconnect. This journey mirrors a reality not unlike Indigenous current experiences with respect to constant colonial resistances; where coming to terms with lost cultural distinction is fast becoming the new culture, of today/tomorrow. The video is an adaptation of a poem by Rogers of the same name.
An online screening will be held on both Hamilton Artists Inc. and Factory Media Centre's websites from June 18-July 15, 2021. The work will also be screened in Factory's street-facing window from July 1-15, 2021, on view every evening from 8-11pm at 228 James Street North in downtown Hamilton.
---
about the artists:
Janet Marie Rogers is a Mohawk/Tuscarora writer, poet, media producer, sound artist and performance artist. She brings her poetic practice to live in all areas off-page as well as in print with 7 published collections to date. Janet is a new publisher with the Ojistoh Publishing label which she operates from her home territory of Six Nations of the Grand River. Visit: www.ojistohpublishing.com Formalized in the Spring of 2019, the Bawaadan Collective worked co-operatively to create the short film Midland Motel Room 77'. Utilizing close friend and familial ties, we quickly began to self-produce our own Indigenous content; modern, contemporary content. As the scale and scope of each project grew, we have continued to explore and expand our membership to incorporate new skills and relationships. Each new member has been an asset to each of the projects and works to support our future work. We are currently working to further formalize our structure, moving to reflect the more traditional consensus-based structures of our communities past. Each member of the Collective has independently had successes in the music, visual arts, film, media arts, fashion, craft and theatre arts fields. Additionally, several members are experienced in academic and administrative foci and have supported the on-going coordination of our business and logistical practices. We envision a group of like-minded Indigenous artisans and accomplices who seek to continually develop our collaborative approaches to modern artistic, storytelling and film production processes. It is our goal to constantly adjust our organizational structures and modes of storytelling to create inclusive, mindful spaces, and better represent Indigenous peoples in the mainstream. Visit: www.bawaadancollective.com
---
This work is presented as part of Hamilton Artists Inc.'s special projects stream, implemented by the NEW Committee. Special projects are activities that do not take the form of regular exhibitions. They can be one-off performances, zines, posters, screenings, workshops, community events, digital platforms, outdoor projects in our courtyard, site-specific interventions, off-site projects, or other similarly unique initiatives. Thank you to our programming partner, Factory Media Centre.