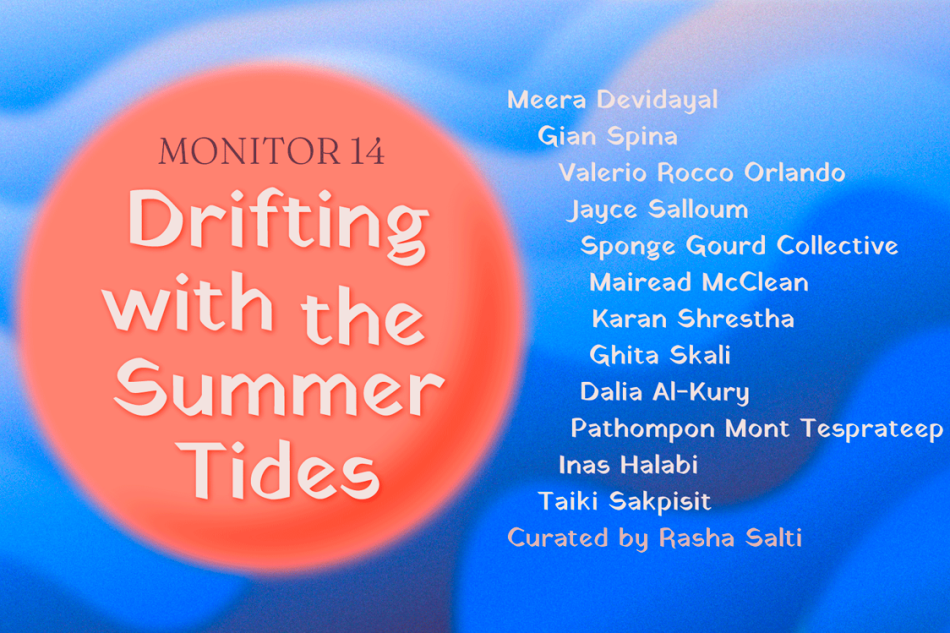 Online Screening Series: "Monitor 14: Drifting with the Summer Tides"
- / Online - Zoom
Hamilton Artists Inc. is pleased to partner with SAVAC for a special screening of Monitor 14: Drifting with the Summer Tides.
In partnership with SAVAC, Monitor 14 will be screened online as part of the ongoing Online Screening Series, presented on CFMDC's website.
We are excited to help bring SAVAC's shorts program Monitor 14 to CFMDC. Monitor 14: Drifting with the Summer Tides  asks the viewer to float and travel towards different realities and lived experiences that the artists and filmmakers find necessary to mediate and communicate. The program articulates along four movements, Billowing Tide, Wave Crest, Breaker Tide, and Ebbing Wave, featuring films by: Meera Devidayal, Gian Spina, Valerio Rocco Orlando, Jayce Salloum, Sponge Gourd, Mairead McClean, Karan Shrestha, Ghita Skali, Dalia Al-Kury, Pathompon Mont Tesprateep, Inas Halabi and Taiki Sakpisit.
SAVAC (South Asian Visual Centre) is a nomadic artist-run organization dedicated to fostering imaginative thought among artists and curators of colour and integrating them into the Canadian contemporary arts ecology through self-representation frameworks. For over a decade, MONITOR has held a steady engagement with an international community of artists, curators and critics, initiating dialogues around the shifting nature of South Asian politics, economies and landscapes through artists' film. Monitor 13: Dance on my head and scratch my heart is co-curated by Montreal-based artist and filmmaker Sharlene Bamboat and Delhi-based filmmaker Priya Sen.
---
Screening Program:
Billowing Tide
Water Has Memory, Meera Devidayal, 2018, India, 8 minutes
Jordão, Gian Spina, 2020, Brazil/Palestine/Jordan, 25 minutes
Dialogue with the Unseen, Valerio Rocco Orlando, 2o19, Italy/Palestine, 24 minutes
Wave Crest
Untitled Part 9: this time, Jayce Salloum, 2020, Canada/Afghanistan, 6 minutes
Nothing  Ever Happens Here, Sponge Gourd Collective [Daphne Xu, Beatrix Chu, Diane Zhou], 2018, China/Canada/US, 3 minutes
A Line Was Drawn, Mairead McClean, 2019, UK, 13 minutes
Stealing Earth, Karan Shrestha, 2018, Nepal, 12 minutes
Breaker Tide
The Hole's Journey, Ghita Skali, 2020, Morocco/The Netherlands, 16 minutes
Syrialism, Dalia Al-Kury, 2020, Palestine/Jordan/Norway, 20 minutes
Ebbing Wave
Part II: Fatimah and Kulit, Pathompon Mont Tesprateep, 2019, Thailand, 11 minutes
We Have Always Known the Wind's Direction, Inas Halabi, 2020, Palestine, 12 minutes
Shadow & Act, Taiki Sakpisit, 2019, Thailand, 23 minutes
The program will be available for free and worldwide on cfmdc.tv for 2 weeks between 23 July and 6 August 2021
---
Hamilton Artists Inc. would like to thank SAVAC for sharing this collection of short films with audiences in Hamilton and the surrounding area. For more information on the SAVAC, please visit: www.savac.net
The Inc.'s Outdoor Screening Series is made possible through project support by the  Canada Council for the Arts, Incite Foundation and Mohawk College