- / The Inc.
Hamilton Artists Inc. is pleased to continue its partnership with imagineNATIVE Film and Media Arts Festival in 2019.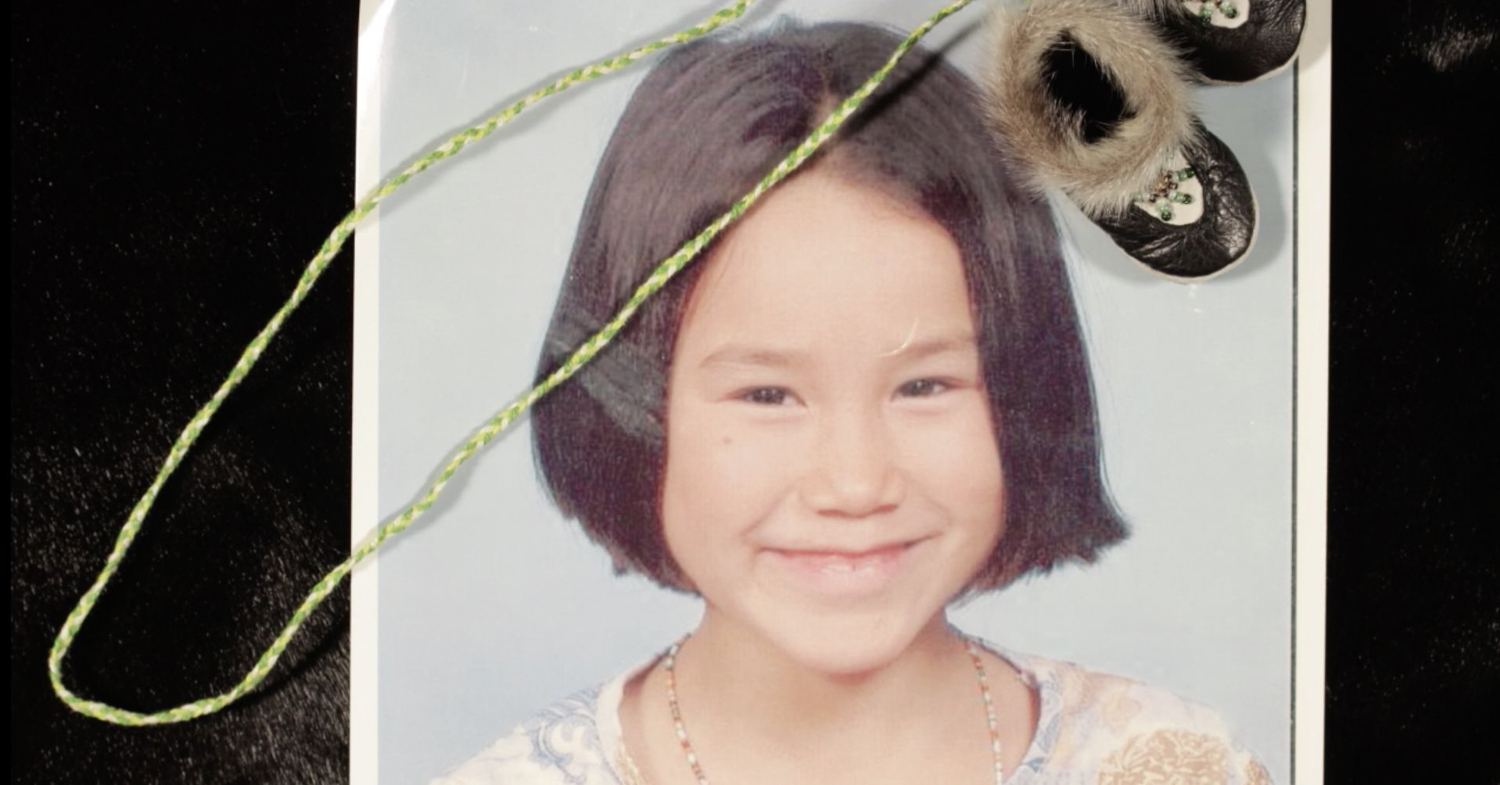 Pasha Partridge. The Story of Pasha. Film still.
Outdoor Screening Series:
NEW WAVES
Presented in partnership with imagineNATIVE, the NEW WAVES shorts program is presented as part of Hamilton Artists Inc.'s ongoing Outdoor Screening Series, presented in our ArcelorMittal Dofasco Community Courtyard.
Saturday, June 8, 2019 at 9:00 pm
Screening time: 73 minutes
Presented in partnership with imagineNATIVE, the NEW WAVES shorts program will kick off Hamilton Artists Inc.'s ongoing Outdoor Screening Series, presented every summer between June and September. NEW WAVES features short-format experimental films by Ken Are Bongo, Richard Curtis, Nick Dangeli, Allan Hopkins, Brett Hannam, Kawenna'here Devery Jacobs, Devonia Laliberte, Jacqueline Michel, Pasha Partridge, Kanatahawi Schuyler, Trevor Solway and Amanda Strong.
imagineNATIVE is the world's largest presenter of Indigenous screen content. imagineNATIVE's Festival, Tour, and year-round initiatives showcase, promote, and celebrate Canadian and international Indigenous filmmakers and media artists and create a greater understanding of Indigenous peoples, cultures, and artistic expressions. The imagineNATIVE Film + Video Tour is one of imagineNATIVE's largest initiatives outside of the annual festival, bringing Indigenous-made film and video works, community engagement activities, and youth workshops to communities across Canada. Prior to screening the program, Meagan Bryne from imagineNATIVE will provide some background on their organization and this year's festival.
Program:
The Story of Pasha 
Director: Pasha Partridge (Inuk/ Kanien'kehā:ka)
Ara Marumaru (The Shadow)
Director: Kawenna' here Devery Jacobs (Mohawk), Ken Are Bongo (Sāmi), Richard Curtis (Ngāti Rongomai, Ngāti Pīkiao)
Shin-Chi's Canoe
Director: Allan Hopkins (N'quatqua) 
E'sekati 
Director: Brett Hannam (L'nu)
Scared by Nature
Director: Trevor Solway (Siksika, Blackfoot Nation)
Onyota'a: Ka Khale Tsi'tkalù:to (Oneida and Toronto)
Director: Kanatahawi Schuyler (Onyota'a:ka/Oneida)
Mahiganiec (Baby Wolf) 
Director: Jacqueline Michel (Anishnabe/Kitcisakik)
Ba'o - The Cannibal Giant 
Director: Nick Dangeli (Tim-Kyo'o'hl Hayats'kw, Nisga'a, Tsimshian & Tlingit, Haida, Gitxsan, Tsetsaut and Colville Nations), Devonia Laliberte (Métis/Guatemalan)
Biidaaban (The Dawn Comes) 
Director: Amanda Strong (Michif)
Hamilton Artists Inc. would like to thank imagineNATIVE for sharing this collection of short films with audiences in Hamilton and the surrounding area. For more information on the imagineNATIVE Film and Media Arts Festival, please visit: imaginenative.org/
About the Films:
The Story of Pasha
Pasha Partridge, 2 min
A young girl tells us the connection of her name to her Inuk culture through animation.
Pasha Partridge is Inuk and Kanien'kehà:ka from two "K-towns", Kuujjuaq/Kahnawake. Being double Indigenous and multi-spirited, her interests are on learning the lost knowledge and strengthening her connection to them. She is a young filmmaker who has recently starting experimenting with artform, utilizing animation merges her creative styles.
Ara Marumaru (The Shadow) 
Kawenna´here Devery Jacobs, Ken Are Bongo, Richard Curtis, 8 min
A young mother, desperate and alone, makes a difficult decision to abandon her newborn daughter. Haunted by her decision, she must do everything she can to get her baby back. Ara Marumaru was created as part of the third Native Slam, bringing international Indigenous directors together in a 72-hour film challenge.
Kawenna´here Devery Jacobs is a rising film and TV actress (Rhymes for Young Ghouls) who has also recently turned her attention to directing. Her shorts Stolen and RAE have screened at imagineNATIVE. Ken Are Bongo is a producer and director working in Lakselv, Norway, whose filmmaking focuses primarily on Sámi storytelling and the Arctic region of his homeland. Richard Curtis is a Rotorua-based filmmaker and member of the Steambox Collective. His film, Ahi Kā (2014) has screened at festival internationally.
Shin-Chi's Canoe 
Allan Hopkins, 15 min
A young boy, Shin-Chi, attends his first year at Indian Residential School armed with a gift from his father to give him strength. His older sister attempts to return on her own terms, while trying to shield her younger brother from the harsh reality of the school.
Allan Hopkins is a writer, director and producer with over fifteen years of professional experience. He is proud member of the N'quatqua First Nation, located in Lil'wat traditional territory. In 2017 he wrote and directed a feature comedy called Indian Road Trip.
E'sekati 
Brett Hannam, 4 min
This experimental documentary explores the origins of both the Indigenous and colonial names for the Lunenburg area in Nova Scotia. The short is a poetic look at how colonization affected the Mik'maw people and their territory and contemplates the importance of a name.
Bretten Hannam is a two-spirit filmmaker of Mi'kmaw, Ojibwe, and Scottish ancestry living in Kespukwitk, Mi'kma'ki (Nova Scotia) where he was raised. His films deal with themes of community, culture, language, and tradition with a focus on two-spirit and LGBTQ+ identity.
Scared by Nature 
Trevor Solway, 9 min
This story gives meaning to beautiful archival footage of the Blackfoot people and reveals some of the history that put one aspect of their cultural knowledge "on hold".
Trevor Solway, Siksika Blackfoot carries his great, great grandfather's name Sinakson and comes from a long line of ranchers; however he choose to pursue a career in storytelling, which has resulted in his directing numerous narrative films. He shares his visual storytelling knowledge by facilitating Film Camps for youth on his reserve.
Onyota'a: Ka Khale Tsi'tkalù:to (Oneida and Toronto)
Kanatahawi Schuyler, 5 min
This self-reflexive work utilizes a split screen to examine ways of life for people of the Onyota'a:ka both in the city of Toronto and on the Oneida Nation settlement.
Kanatahawi Schuyler is a filmmaker and arts administrator. Her first short film Love Kills premiered at the imagineNATIVE film festival in 2009. Schuyler is currently in pre-production for another experimental short film There IS Light.
Mahiganiec (Baby Wolf) 
Jacqueline Michel, 5 min
A grandmother sits around the campfire telling her grandchildren about a young girl who was raised by a wolf. When the young girl is found by a woman, the worlds of wolf and human collide.
Jacqueline Michel did her first documentary as a part of the Wapakoni workshop in 2014. She is a playwright and a comedian. This is her debut into drama.
Ba'o - The Cannibal Giant 
Nick Dangeli and Devonia Laliberte, 7 min
A young girl sits with her grandmother around the campfire where she learns cultural stories.
Nick Dangeli is a recent graduate (June 2018) of the Indigenous Independent Digital Film Program at Capilano University. Early in his childhood, he liked to tell stories and at age 15 he used his iPhone and entered one of his films into the international short competition at the 2013 Celphim Festival at McGill University and he placed second in the Canadian division.
Biidaaban (The Dawn Comes) 
Amanda Strong, 18 min
Biidaaban, a young, Anishinabe maple harvester, defies the rules of time, space and gender in this compelling and beautiful stop motion short, told through different times and dimensions. Biidaaban carries on the tradition of harvesting maple syrup in present time in urban Ontario with help from her friends, including Sabe, an ancient shapeshifter.
Amanda Strong is an interdisciplinary artist with a focus on filmmaking, stop motion animations and media art. She is currently based on unceded Coast Salish territories also known as Vancouver. Strong is the owner/director/producer of Spotted Fawn Productions Inc. (SFP). Under her direction SFP utilizes a multi-layered approach and unconventional methods that are centered in collaboration on all aspects of their work.
The Inc.'s Outdoor Screening Series is made possible through project support by the  Canada Council for the Arts, Incite Foundation and Mohawk College