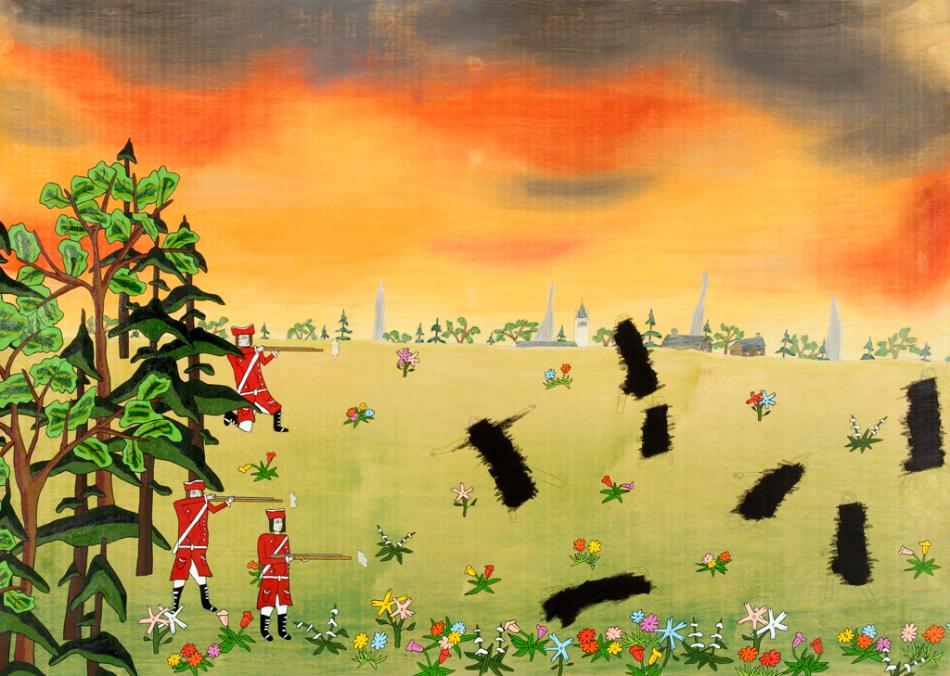 Histoires
Mario Doucette
- / James Gallery
Histoires by Mario Doucette (Moncton, NB)
161 James St. North, Hamilton
Artist talk: Friday, March 14, 08 6-7 pm
Reception with the artist: March 14th, 7-10 pm
Paintings may be viewed from March 7 to April 19, 08
gallery hours: Tues-Fri 12-5, Sat 12-4
Contemporary art is experiencing a moment of juvenilia. In an attempt to unshackle art from its serious pretences it moves toward the adolescent. The images, previously suspicious as fine art, are now embraced for their teen dream-like qualities and video game and television references. The child's eye is a mythical paradise that offers a novel way to look at the world seemingly immune to the influences of traditional historical narrative, pictorial perspective, and skill. What happens when an adult artist knowingly employs the naïve in pictorial space? The art drops any pretense of "naturalistic" accuracy, and becomes more ambiguous, perhaps closer to something free; in any case a revised vision is offered. And what happens when that same artist employs the naïve in order to address historic violence between humankind; war, genocide, expulsion, the conquering of another people, the colonization of their culture and their mind? What of the contrast between historical content fraught with the mature and images stylized to appear naive? For me, Mario Doucette's use of the child-like calls into question the certainty of historical narrative....
(excerpt from the essay accompanying the exhibition, by Erinn Langille)
view essay at http://www.hamiltonartistsinc.on.ca/programming/2008/doucette.pdf
Please note* due to the terrible snow storm Mario's artist talk has been moved to Friday, March 14th from 6 to 7 pm.
A reception with the artist will follow, from 7 to 10 pm.
This is the evening of the art crawl so wandering up and down James St. North is encouraged.