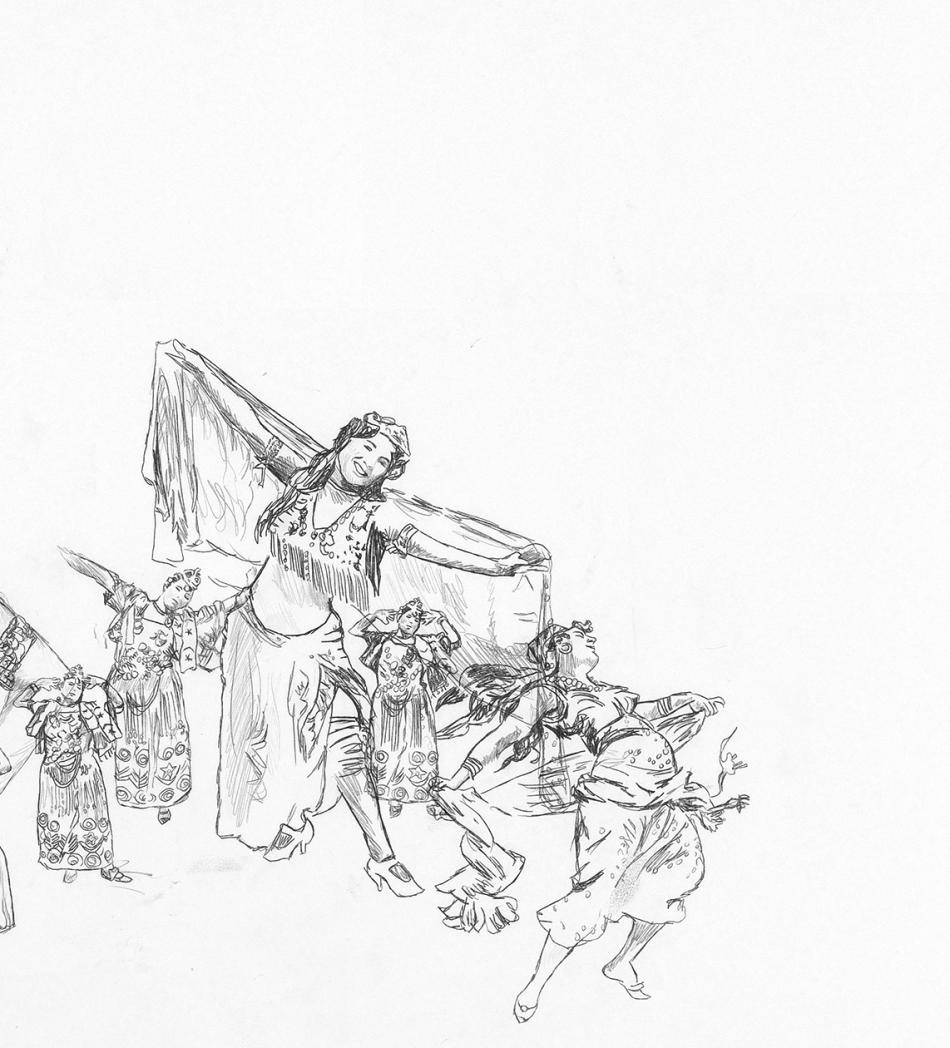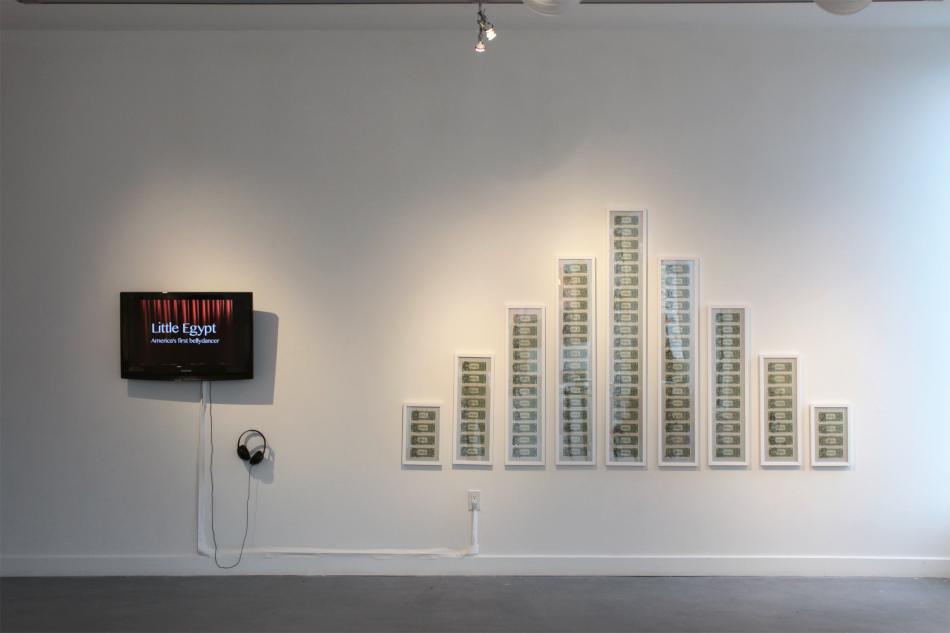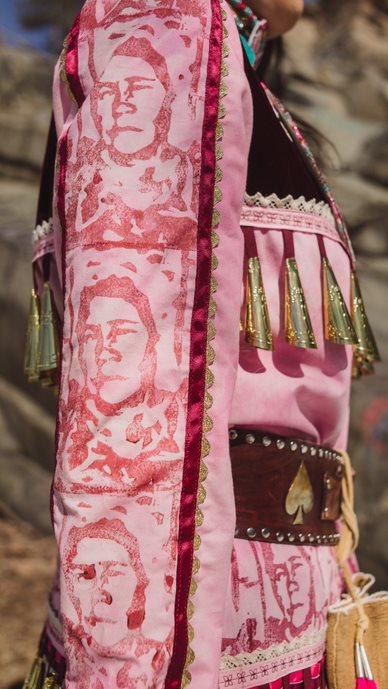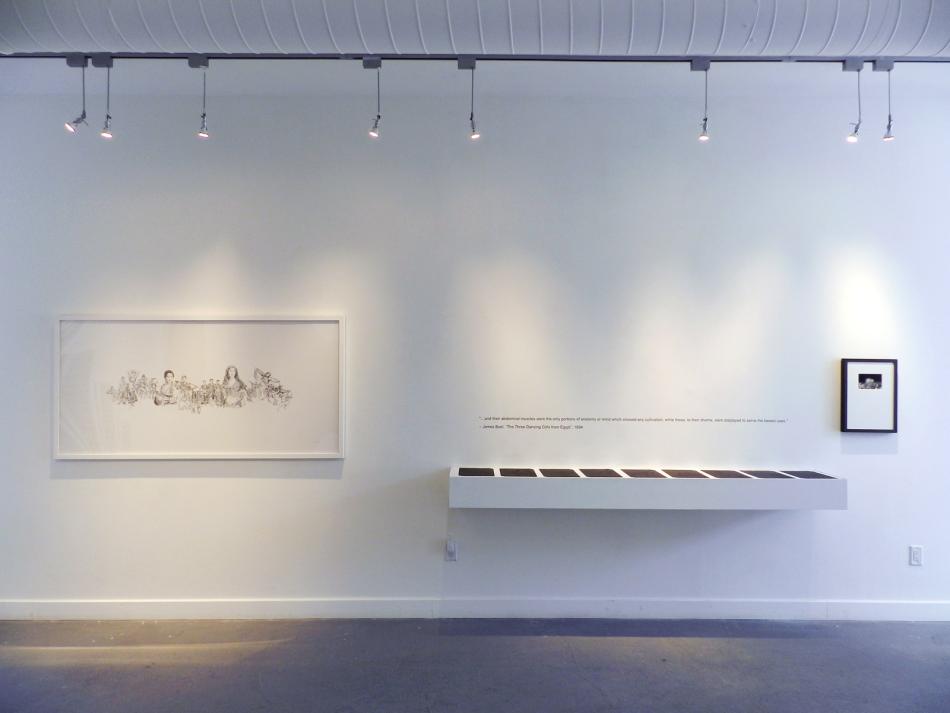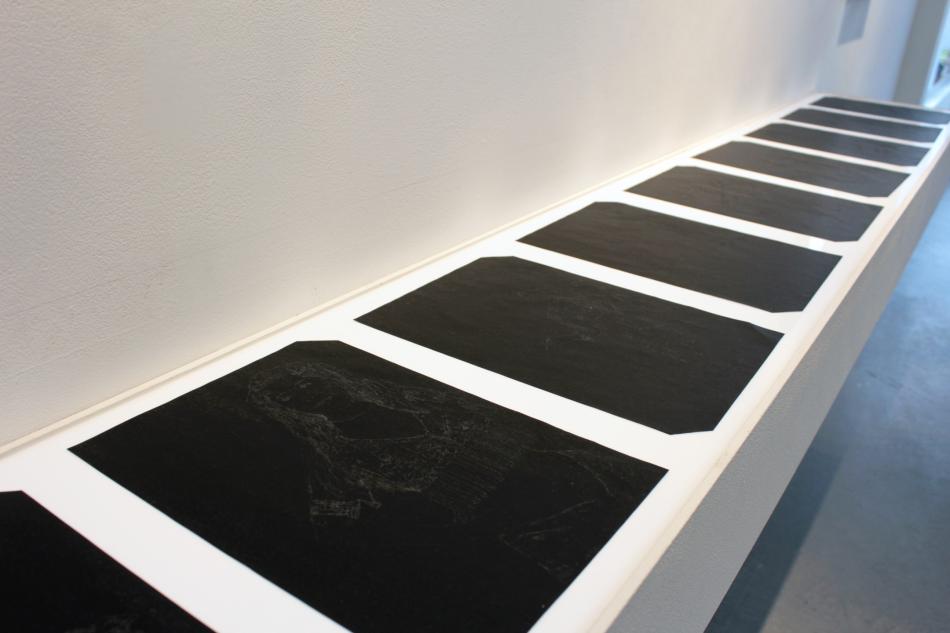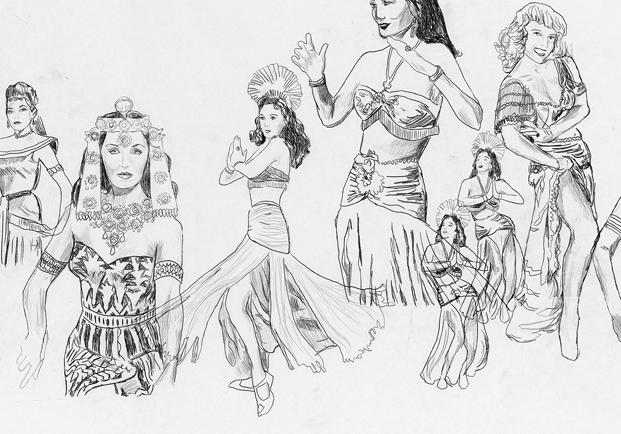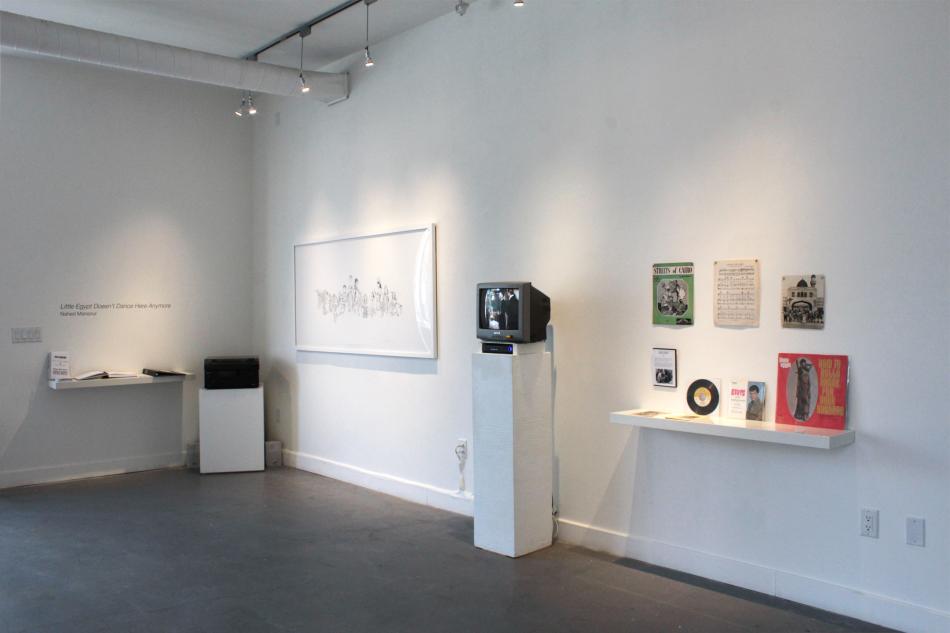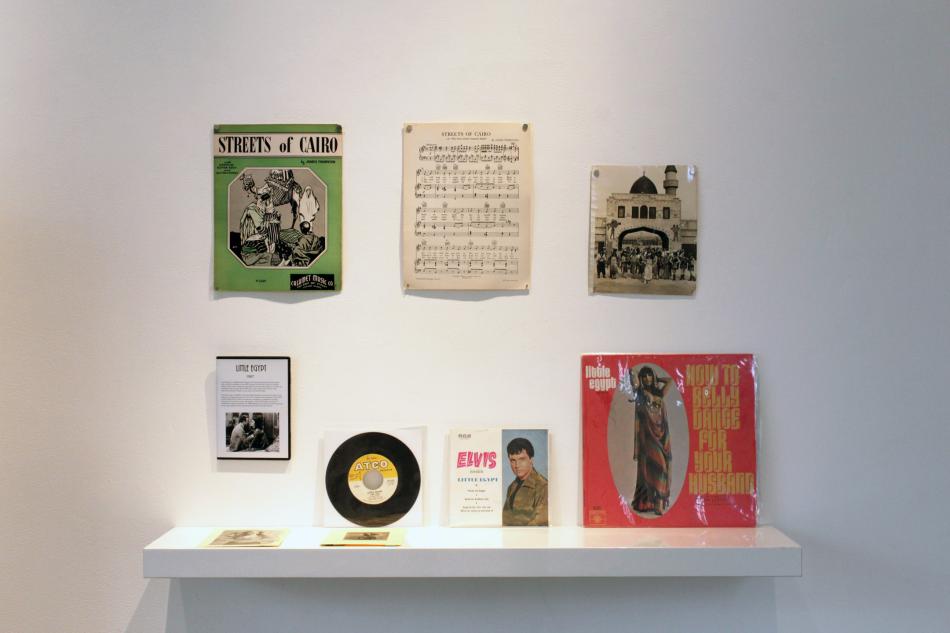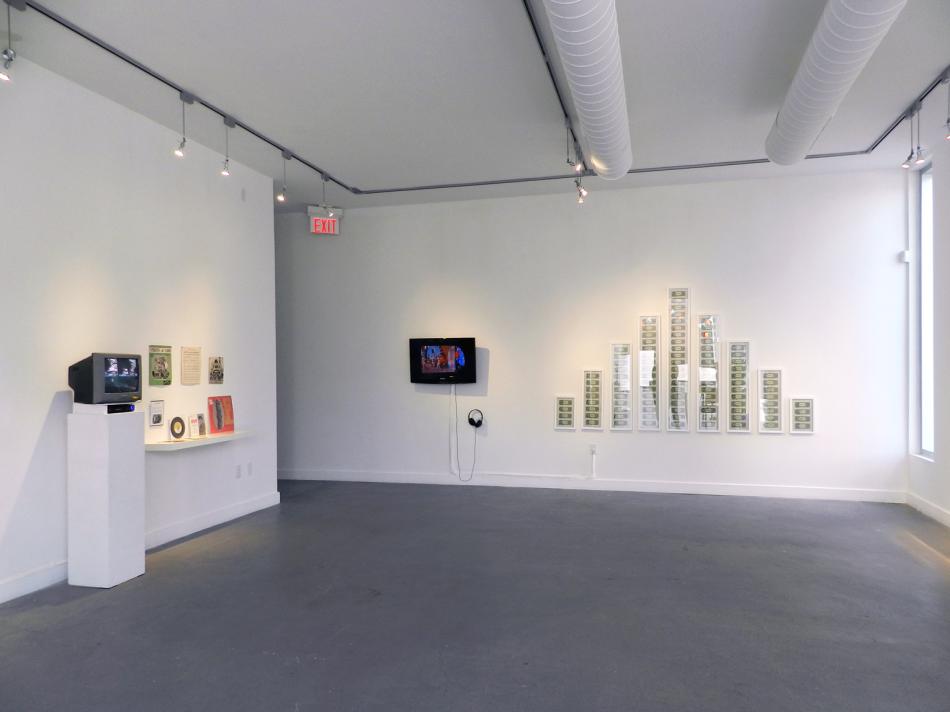 Little Egypt Doesn't Dance Here Anymore
Nahed Mansour
-
Opening Reception: February 8 from 2:00-4:00 pm
Nahed Mansour's exhibition Little Egypt Doesn't Dance Here Anymore centers on the iconography surrounding the historical figure of Little Egypt, the stage name of the first belly dancer to premier the dance form in North America during the 1893 World's Columbian Exposition in Chicago. Attracting over two million attendees, Little Egypt's "hoochie koochie" routine on the Cairo Street Exhibit was the most visited and most profitable act of the Exposition. While the dance was heavily censored in the public realm for breaking strict Victorian era social codes, it gained popularity in private halls and banquets frequented by wealthy men. Taking advantage of a new and lucrative market, Western women increasingly commodified and mythologized Little Egypt by using her recognizable moniker to promote their own imitations of the dance. Loosely interpreted imitations of belly dancing's form, costumes, and music eventually culminated into a now familiar cinematic trope that widely circulated during Classic Hollywood cinema (1920s-60s) and whose iterations continue to ripple into today.
Comprised of installation, drawings, video, and material culture, the exhibition tells this history through its offering of over 100 images of entertainers that have replicated, reinterpreted, or referenced Little Egypt. Nahed's use of carbon paper, American dollar bills, and found footage in her work allude to the ways Little Egypt's representation is tied to ideas of transfer, circulation, and authorship. And while the exhibition starts off with the 1893 World's Fair, the survey of Little Egypt's image and influence over the last century reveal direct and indirect contact with popular figures including Thomas Edison, Rhonda Fleming, Elvis, and Cher.
This exhibition is accompanied by a critical essay written by Swapnaa Tamhane, which can be accessed HERE. Tamhane is an artist and curator based in Montreal.
---
Auxiliary Programming
Nahed Mansour in Conversation with Swapnaa Tamhane
April 29, 2020 at 3:00 pm ET (12:00 pm PT)
On April 29th the Inc. facilitated an online conversation between Nahed Mansour and artist and curator, Swapnaa Tamhane which was hosted on Instagram Live. Mansour and Tamhane discussed Mansour's recent exhibition at Hamilton Artists Inc. and further expanded on the themes explored in Tamhane's
essay
,
The Many Appearances of Little Egypt
.
Watch the documented livestream below:
---
Swapnaa Tamhane is an artist, curator, and writer. She curated "In Order to Join – the Political in a Historical Moment," an exhibition of global feminisms with artists born between 1947 to 1957, held at Museum Abteiberg, Mönchengladbach, and CSMVS, Mumbai (2014-2015). In Canada, she curated "HERE: Locating Contemporary Canadian Artists," at the Aga Khan Museum in Toronto (2017). She has been a Research Fellow with the Shastri Indo-Canadian Institute (2009), and an International Fellow with the German Cultural Federal Foundation (2013). Designer Rashmi Varma and Tamhane curated, art directed, and wrote SĀR: The Essence of Indian Design, published by Phaidon Press in 2016. Her visual practice is dedicated to decolonizing drawing in an attempt to reframe an understanding of form and line. Her process focuses on the presence of her hand in making paper and the treatment of surfaces. She has exhibited her work at Nuit Blanche and A Space Gallery, Toronto; Leonard & Ellen Bina Gallery, Montreal; Serendipity Arts Festival, Goa; and has upcoming exhibitions at the Royal Ontario Museum, Toronto, and the Sculpture Park, Jaipur.
---
Nahed Mansour is a Toronto-based artist, working in video, installation, drawing, and performance. Her research-based practice draws from archival images, found footage, and material-culture to examine notions of power through dance. Over the past decade, her works have investigated iconic entertainers, such as Bill Bojangles Robinson, Shirley Temple, and Sherihan, who become apertures for thinking about the ways racial identities are performed and negotiated in popular culture. In presenting her work alongside material culture that informs her practice, she creates a constellation of images and ideas informed by critical feminist and post-colonial readings of history. She has maintained an independent artistic and curatorial practice while working as an arts administrator, currently working at the Gardiner Museum as Senior Manager, Programs. www.nahedmansour.com 
---
Nahed gratefully acknowledges that works from the exhibition were produced with the financial support of the City of Toronto through the Toronto Arts Council and the Ontario Arts Council, an agency of the Government of Ontario.