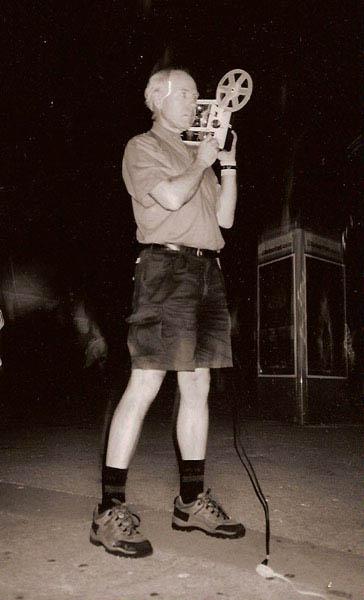 Odyssey in Eight (mm)
John Porter
John Porter, Odyssey in Eight (mm) Oct. 21
free admission
Friday, October 21, 2011 at 7:30 p.m.
126 James St. N., Hamilton, ON
irene@hamiltonartistsinc.on.ca or blackboxwhitebox@gmail.com
John Porter in Person:
Film screening, performance & artist talk
Media artist John Porter will be delighting Hamilton audiences with a screening of his celebrated super 8 films. This dynamic program will also be a live performance as John interacts with the audience and presents a few "film performance" pieces including using a hand-held projector to imitate the depicted motion, turning the gallery into a surround super 8 experience.
Porter has made 300 films since 1968 and has performed 100 solo shows worldwide. His European tours garnered many accolades, described as "one of the most wonderful film experiences of the International Film Festival Rotterdam 2007" (Tonio van Vugt, Zone 5300 - Strips, Cultuur & Curiosa). New York's Time Out magazine described him as a "visual genius who has fully extended the artistic possibilities of Super-8" (March 2007). The acclaimed Camera Dances and Condensed Rituals especially illustrate his unique approach to film as visual art. He screens his film originals – not copies. John Porter's lively and humorous films are enjoyed by people of all ages.
Porter studied photography and 16mm film production at Ryerson University before embarking on his lifelong mission to produce and exhibit super 8 films. As an educator and advocate of small-gauge filmmaking, John has lectured and led workshops at the University of Guelph, Ryerson, York, Trent, Syracuse, the Ontario College of Art, and Sheridan College and screened at countless international festivals. A prolific author and photographer, John continues to document and photograph Toronto's independent and underground film culture.
Program notes: Josephine Massarella
Please visit http://www.super8porter.ca
126 James. St. N. location (accessible from Toronto by GO bus or QE/403 York St. cut off)
This event and the symposium are supported by the Canada Council for the Arts and Images Festival.