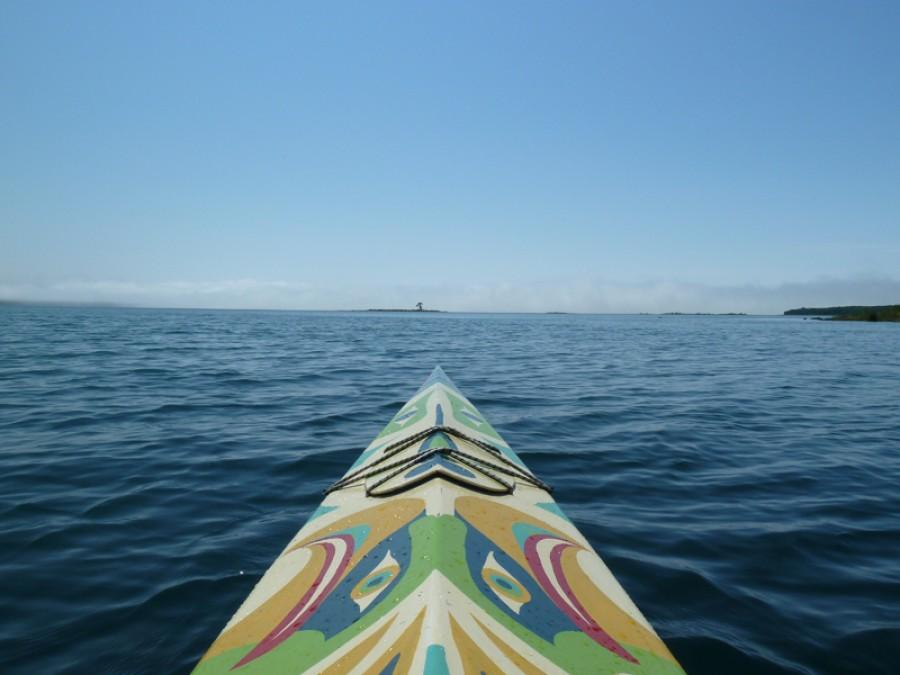 Surfacing
Grace Loney and Erla Daly
-
Thurs. April 12 - Thurs. May, 3, 2012
Reception: Thursday, April 12,  7-9:30 pm
Art Crawl open house: Friday, April 13, 7-11pm
---
Grace Loney
'Surfacing' is the result of many years exploring large and continuous composition, and of making things that are practical and functional.
'On the Wind' is a painting series inspired by an extraordinary place on Lake Huron where Grace has spent time throughout her life. It explores the unforgettable visual imprint of the environment, the ever-changing rich colours, moods and light patterns of the expansive lake and sky. This continuous series attempts to convey the vastness of nature and the connectedness one feels when one is paddling across the surface of the water.
"Voyageur" is the theme of the third sea kayak* that Grace has built and painted. It was made collaboratively with David Lawson and is destined to surge through the waters of the St. Lawrence River. The making of a functional sculpture is deeply gratifying, satisfying on a basic level the need to survive and provide. When sitting in a kayak, one is in effect sitting on the surface of the water. The kayak is made of a thin surface put together in three dimensions which makes it strong, buoyant, and maneuverable. Grace has copied patterns from historic Voyageur birch bark canoe images and adapted them to the kayak shape.  This kayak will have its maiden launch this spring in the Hamilton Harbour before going to its home on the St. Lawrence River.
* The kayak is designed by Gerry Gladwin of Wolfeville, Nova Scotia and is part of his Volkskayak series.
Erla Daly
Erla Daly is a painter living in Hamilton. Erla studied at Mohawk College, Hamilton; Burnaby College BC,  Aaron McBride School of Art BC,  and Coquitlam Centre BC.
Daly ran Creative Arts Gallery in Hamilton exhibiting her works while also teaching Oil and Watercolor classes. In 1995 Daly was written up in the Peintres Du Quebec Cotes en Gallerie, Montreal. Daly's work can be viewed in the Permanent Collection of the Centre for the Disabled, BC.
Daly began painting in oils, experimenting with subjects and different styles. Figurative and Portraiture became important to the type of style she wanted to express. Daly found a true emotional response to Art Deco influences, which led her to experiment with large scale paintings. The vibrant colors combined with masculine and feminine undertones express their power and indifference.