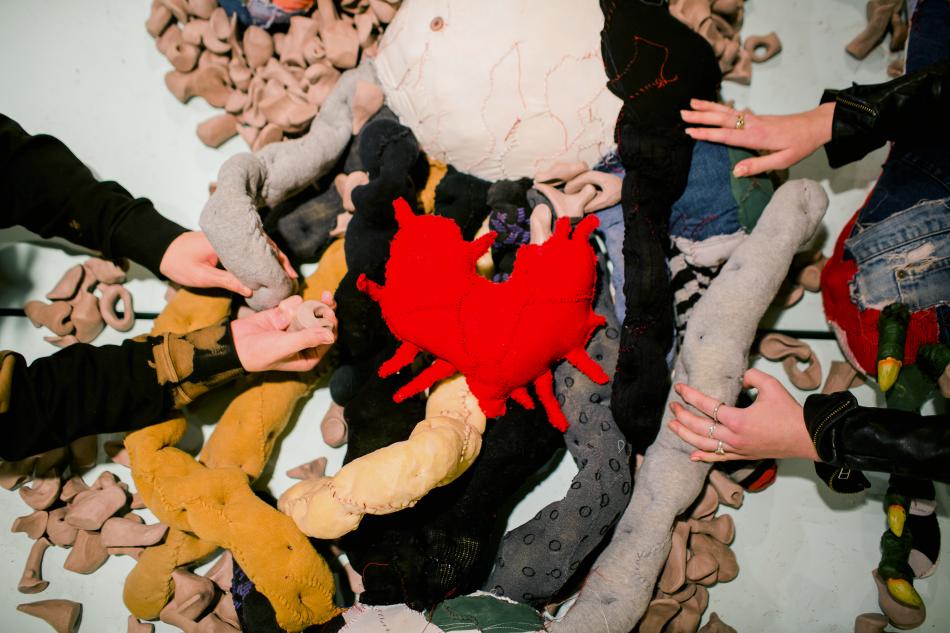 Wormshop
Birdie Gerhl, Curated by Abedar Kamgari
- / The Inc.
Where our edges touch, there are long, long dreams…
Here, worms of all shapes and sizes crawl across a landscape of work benches and dining tables. Their flesh is cobbled together using mismatched, recycled bits of fabric, and lovingly adorned in textural flowers, embroidery, and patchwork. The worms are not fixed creatures, but constantly making, unmaking, and remaking themselves as they move towards the Crip Horizon. The Crip Horizon is a term coined by Sean Lee that imagines possible futures for disabled people who, among many others, have been promised no future within the existing social order.
Through her ever-in-progress textile art practice, artist Birdie Gerhl maps the Crip Horizon not as a future dreamscape but in its current presence with all our messy tryings and failings and longings. Over the course of two months, Birdie will transform the Inc.'s Cannon Gallery into her studio (read: Wormshop), continuing to work on the pieces onsite. The project brings together tactile sculpture and audio description as a medium, through video, vibrotactile experiences, and zines. Birdie's ongoing work at the wormshop imagines a world where her labour as a disabled person is more visible.
Nestled among the worms, Birdie includes books and other references to the human and non-human relations who comprise her disabled lineage. Birdie cites people whose names we know as well as those whose wisdom is documented unconventionally, or written out of archives altogether.
We welcome you to the wormshop. Please make yourself comfortable, make noise, and feel free to touch.
---
Birdie Gerhl is a practitioner of longing. As a multidisciplinary artist based in Hamilton, ON, Birdie searches the complicated and clumsy space between bodies. She locates disability and difference in relationship, rather than isolating it within the body or in identity. Her work understands that crip kinship can be chosen or blood, human or non-human, ancestral or material, and disabled or not. Birdie's work has been included in exhibitions and screenings at Art Gallery of Ontario, Art Windsor-Essex, Centre[3], Hamilton Artists Inc. and Tangled Art + Disability. She was awarded the 2019 Intergenerational LGBT Artist Residency and the 2021 Centre[3] Emerging Artist Residency. Birdie was one of the inaugural Artists-in-Residence / Gallery Assistants at Hamilton Artists Inc. throughout 2020-21. Birdie also slung zines at the 2022 Hamilton Zineposium. Birdie's instagram is @birdie_gerhl
Abedar Kamgari is an artist, curator, and arts worker based in Hamilton and Toronto. Her practice considers contexts and conditions of displacement and diaspora, including the politics of assimilation and belonging. She is deeply influenced by performance art and her research often explores the presence, absence, movements, and responsibilities of bodies in relation to land and labour. As a curator and arts worker, Abedar has developed programs on diasporic methodologies, performance art, race and inclusion, and contemporary art and gentrification. She holds a BFA (2016) and an MFA (2022) in interdisciplinary studio and has performed, screened, and exhibited in a range of institutional contexts. She was programming director at Hamilton Artists Inc. from 2018-22, and is currently artistic director at SAVAC (South Asian Visual Arts Centre).