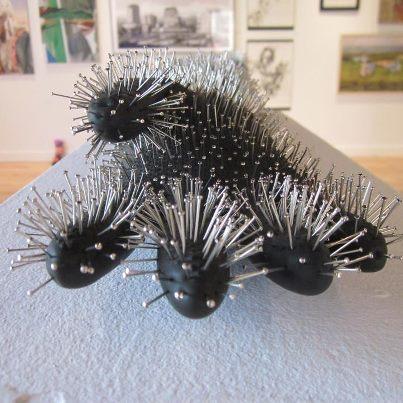 ANNUAL MEMBERS' EXHIBITION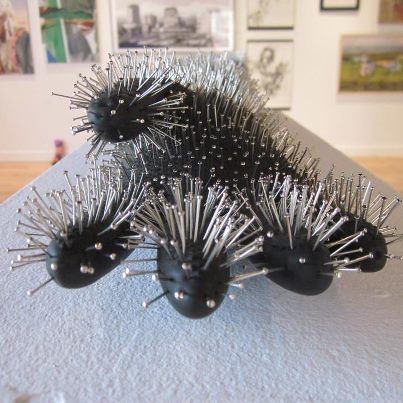 Prick
by Andrew McPhail. image courteous of the artist
Annual Members Show
NOV. 8 - DEC. 16, 2012
Thursday Nov. 8, 2012 - 7 to 9:30pm
We are pleased to present our annual group show of over 100 works by our talented members.  In this years exhibition, both gallery spaces have been filled with sculpture, painting, drawing, and prints.
Opening: Thursday November 7:00- 9:30 pm
Exhibition Dates: Nov. 8 - Dec 16, 2012
Thank you to all of our exhibiting Artists
Amber Aasman, Justin Antaya, Callie Archer,  Kamran Bakhtiari, Susan Bartolacci, Natasja Bischoff, Teal Booth, Carol Bristow, Doug Brown, Jason Brown, Ben Burchert, Judi Burgess, Jack Butler, Andrea Carvalho, Mary Lou Cherrier, Christine Cholowsky, Ryan Clark, Jacqui Cobb, Barry Coombs, Patrick Conway, Valerie Cousens, Sarah Currie, Diane Daniels, Christine De Melo, Trudy Deys,Paul Elia, Robert Ezergailis, Suzan Fawcett, Chrisia Feliz, Alex Filotti, Herbert Fodor, Matt Fondevilla, Corey Forgie, Annie Fraser, Leslie Furness, Christopher Gallo, Louise Gilmore, Reg Gilmore, Ann M. Goetz, Pete Goff, Tanja Groos, John Haney, Bev Healey, Christopher Healey, Ralph Heather, Jane Hill, Caillin Kowalczyk, Mary Kroetsch, Maureen Isnor, Eva Ivanov, Natalie Jachyra, Dan Jianu, Emily Johnson, Svava Thordis Juloisson, Ciara Kinsella, Fiona Kinsella, Stella Kuiper, Linda Kulchyoki, Gregory Jacob Knox, Fleur-Ange Lamothe, Nick LaRocca, Arlene Laskey, David Lattanzi, Paul Lattanzi, Roberto Lavidez, Corry LeBlanc, Rachel Lichtblau, Tzvia Lipton, Paul Lisson, Claudette Losier, Irene Loughlin, Royston Maybery, Joanne McCue, David McEachern, Andrew McPhail, Ann Milne, Monika Minnis, Steve Newberry, Aleda O'Connor, Linda Joyce Ott, A. Tony Panebiano, Maureen Paxton, Gloria Pizio, Peter Pona, Laura Potter, Carol Priamo, Helena Pravda, George Rackus,  Breann Richie, Deborah Robertson, Samantha Roketta, Paul Ropel-Morski, Milena Roglic, Kaylyn Roloson, P. Man Saram, Elizabeth Rose von Rosenbach, Saiedeh Rozavi, Adriana de Ruyter, Maria H. Sarkany, Joseph Sawicki, Bert Schilthuis, Simone Sciascetti, Ivo Sculija, Mikael Surget, Dylan Swan, Jaggi Tandan, Khalid Thamer, Matt Tegel,Tevin Todd, Zoran Todorivic, Michelle Trkulja, Jean-Laurent Trudeau, Jimmy Vegas, Walter Weingartner, Anita Weitzman, Louise Williams, Roger Wood, Bert Wreford, Al Wright, Robin Tziporah Zilberg, Grazyna Ziolkowski
We look forward to seeing you at the gallery!
Contacts:
Reg Gilmore - members@theinc.ca


Irene Loughlin - programming@theinc.ca




Andrea Carvalho - info@theinc.ca
—Posted