Artist Talk and Publication Launch: Shake-n-Make
Domestic Brew: Craft Beer Garden is on view on our Cannon Project Wall until May 20, 2018. The installation is now accompanied by a free publication with a critical essay by Stephanie Vegh. Join us on April 18 for an artist talk and publication launch with members of Shake-n-Make . Free, all are welcome!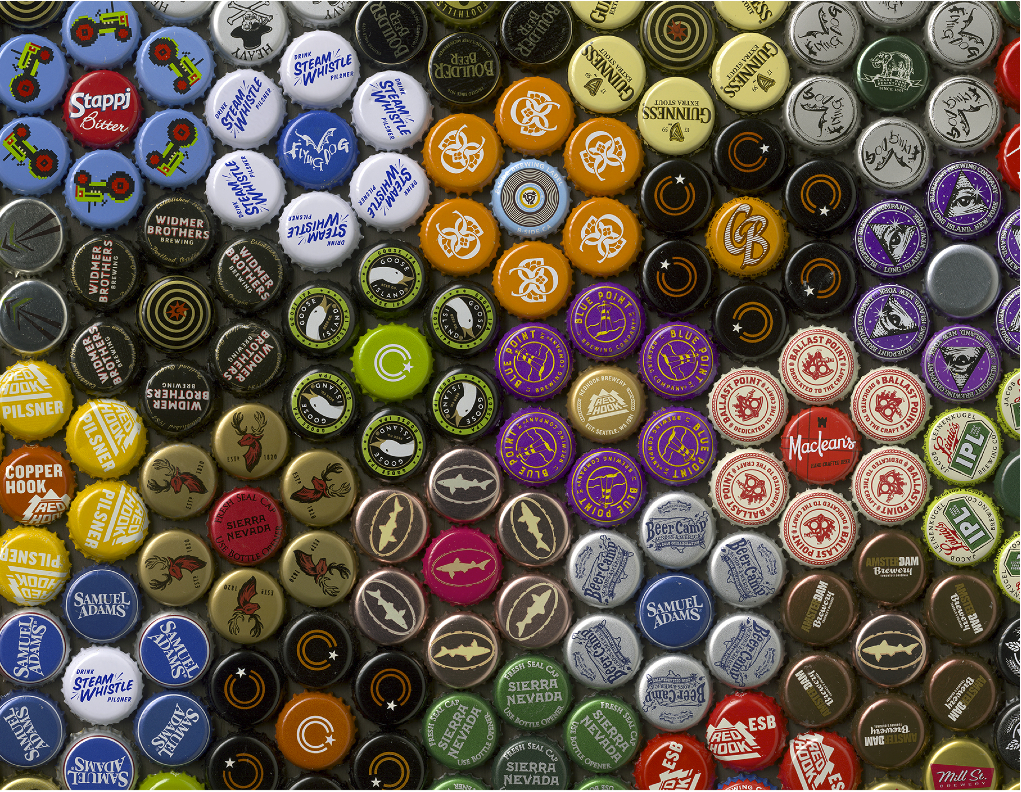 Domestic Brew: Craft Beer Garden
Shake-n-Make (Liss Platt and Claudia B. Manley)
Artist Talk & Publication Launch: Wednesday, April 18, 7:00 - 9:00 pm
Domestic Brew: Craft Beer Garden is an installation that seeks to provide audiences with an opportunity to reconsider the social function of beer, approach beer as an art medium, and reference, re-work, and contrast home hobby crafts of the '70s (domestic, debased, amateur, feminine) with minimalist sculpture (public, vaunted, professional, masculine). The billboard on Hamilton Artists Inc.'s Cannon Project Wall provides a 'garden' of beer-cap flowers, transforming and monumentalizing the bottle caps and elevating their material and conceptual function to that of an art object. The billboard provides audiences and passersby with an opportunity to reconsider familiar and commonplace objects while encouraging them to find aesthetic pleasure in materials destined for the landfill. Part of referencing '70s bottle cap art (used to decorate hats, coasters, and furniture) is to connect the environmental and economic concerns of that time with our contemporary cultural moment.
Learn more about Domestic Brew  HERE and HERE

---
Shake-n-Make is a queer art collective (members Claudia B. Manley and Liss Platt) based in Hamilton, Ontario that endeavours to elevate home hobby crafts from the 70s into a playful and critical contemporary art practice. Shake-n-Make's first solo show, I Can't Stop This Feeling: Crisis, Comfort, and Craft was exhibited at MKG127 in Toronto in 2009. Since then, the collective has exhibited at numerous venues in Ontario, including The Art Gallery of York University (Toronto), Rodman Hall Art Gallery (St. Catherines), b Contemporary (Hamilton, ON), and The Artists Newsstand (Toronto). Shake-n-Make has also participated in A Handmade Assembly in Sackville, New Brunswick, as well as Supercrawl and TH&B2 in Hamilton and received two visual artist grants from the Ontario Arts Council. Shake-n-Make is represented by MKG127 in Toronto.

Stephanie Vegh is an artist and writer who studied Studio Art and Comparative Literature at McMaster University, and completed her MFA at the Glasgow School of Art. She has exhibited her work in the UK and Canada, and publishes art writing and criticism both locally and nationally. She maintains an active profile in regional arts advocacy, and currently serves as Manager, Media and Communications at the Kitchener-Waterloo Art Gallery.

---
Visiting and Accessibility: Hamilton Artists Inc. is located at the intersection of James and Cannon streets in a fully accessible facility. Our washrooms are gender-neutral. Please call 905-529-3355 or email programming(at)theinc.ca if we can do anything to make your visit more comfortable.

—Posted