Members May Show: ARTISTS TALK, Saturday June 8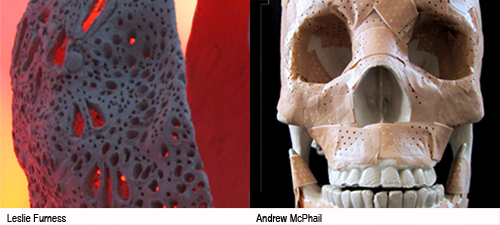 ARTISTS TALK
 Saturday June 8 at 2 pm
Stunt Double
Leslie Furness and Andrew McPhail
Andrew McPhail
Andrew McPhail is a Canadian visual artist. He was born in Calgary, Alberta, in 1961 and studied at York University where he received his MFA in 1987. Living in Toronto in the 1980's and 90's his work focused primarily on drawing, often with pencil crayon on a polyester film called mylar. After moving to Hamilton in 2005, his practice shifted towards three dimensional work, performance and painting.
His accumulative, craft oriented work reconfigures disposable materials such as band aids, Kleenex and pins into large sculpture and installations. in 2013 he was awarded the Canada Council International Residency in Paris, France.
Leslie Furness
Leslie recently graduated with an Honor's Degree in Art from McMaster University, 2012. She has just completed a Bachelors Degree in Education from Brock University. She will now add Art and English teacher to her roster of accomplishments. Leslie survived a 25-year career painting scenery for the theatre industry, prior to this recent education, starting with a Diploma from Niagara College in Technical Theatre. Leslie is the owner/operator of a mural and faux-finish painting business, Red Brush Studio for Design and Art and continues to create one of a kind finishes and artwork for commercial and residential clients in Niagara, Hamilton and the GTA.
Growing out of her studies at McMaster, Leslie incorporates her love of the theatre with narratives describing the human condition dealing with memory, or loss of it, decay and reinvention. In her current art practice Leslie employs the use of ceramics, media, text, paint, fabric and storytelling to invite the viewer into her dystopic worlds. Leslie is thrilled and honored to be showing alongside of Andrew McPhail in this show that is representative of sculpture, repetition and the human narrative.
—Posted