Remembering Dr. Carl John Turkstra
Hamilton Artists Inc. joins the greater Hamilton community in mourning the passing of Dr. Carl John Turkstra. Dr. Turkstra was a successful world-travelled academic in the field of civil and environmental engineering. He was also the founder of the Incite Foundation, which continues to support large and small arts, education, and music programs in the Hamilton region. Dr. Turkstra had a lasting impact on the Hamilton Artists Inc. personally, as he aided the Inc. in purchasing it's current home at 155 James Street North in 2009.
We reached out to members of the Hamilton Artists Inc. family to speak directly to Dr. Carl John Turkstra's character, and we hope that these words provide a greater understanding of the man who helped so many.
---
Michael Allgoewer, former Board Director:
I met Carl Turkstra in my capacity as the Board President of the Hamilton Artists Inc. in the early 2000's. The Inc had decided to pursue the acquisition of its own building, and we had identified a site we were interested in. The old Jerry's Man Shop on James Street North had come up for sale, and we needed the requisite funds fast until we could secure alternative funding. Long story short, Carl and Kate Turkstra purchased Jerry's Man Shop, and held it in trust for the Inc.
Through an acquaintance of Carls' it was suggested to Donna Lee Macdonald, the then-Administrator of the Inc, that we should approach Carl and Kate Turkstra for assistance. The building committee put together a package and we were invited to meet with Carl and Kate in their beautiful home. After admiring their extensive art collection, we sat down and Donna and I made our pitch as to why the Inc should have its own venue, and its importance to the arts in Hamilton. Long story short, Carl and Kate Turkstra purchased Jerry's Man Shop, and held it in trust for the Inc.
I remember one other small detail. I had noticed that Carl wore an iron ring on his finger. When I asked him about it, he told me that it was fabricated from the remains of a collapsed bridge, and that it signified his status as a structural engineer. He mentioned that bureaucrats in planning departments always treated him with respect when they saw it.
Carl Turkstra did not really need that ring. He was a man that elicited respect and admiration for his integrity, forthrightness, and dedication to his community and the arts.
He will be sorely missed.
Paul Ropel-Morski, former Board Director:
My memories of Carl Turkstra was one of a proud Hamiltonian that was interested in many aspects of the city but had a soft spot for the arts. I believe that the Inc would not be in its current location without the backing of Carl. His name on the construction committee gave the project credibility at city hall and helped in securing the capital to move the construction phase forward. The few times we met he was gracious and invited us to his home to speak about the project.
Donna Lee McDonald, former Arts Administrative Director:
Carl was integral to the Hamilton Artists Inc. project. He purchased the building for the Inc. and then gave us the time without pressure to pay him back while meanwhile allowing us to occupy the building rent free for a few years. He and Kate were extraordinary and greatly assisted and understood the importance of art in community and artists as well—not just institutional support, but on the ground getting to know the arts community. He and Kate became friends of the artists, not just patrons. He also lent his engineering insight into the project.
Quite simply put, if Carl and Kate did not step forward and buy the property for us, in the trust that we would pay him back (and we did), the Inc. building would not happen because we leveraged that purchase to open every door of funding from the municipal, provincial and federal programs that we could. It is also very important to note that the Hamilton Artists Inc. building project was the first artist-run centre in Canada to receive federal, provincial, and municipal capital funds. It was a pioneering project and would not have happened without Carl and Kate.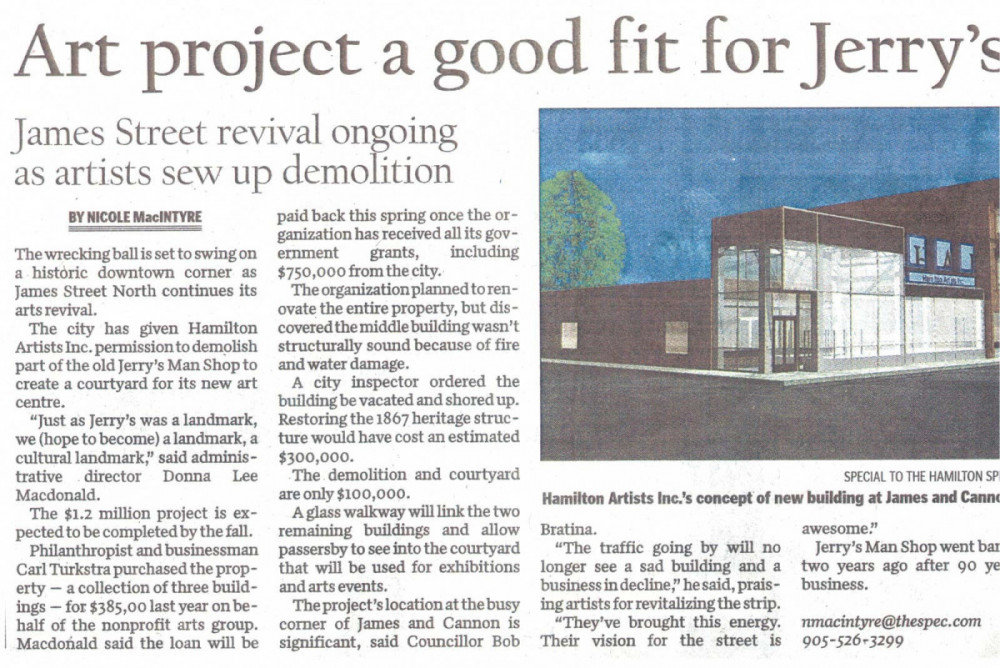 ---
Thank you to Donna Lee McDonald, Paul Ropel-Morski, and Michael Allgoewer for contributing to this memorial.
Hamilton Artists Inc. will share details of a community celebration of life when those details are revealed.
We at the Hamilton Artists Inc recognize and honour Dr. Carl John Turkstra. We would like to echo the wishes of his family in inviting the Hamilton community to, in lieu of flowers, please consider a donation to your favourite charity related to the Arts Community in Hamilton. Incite Foundation for the Arts can be viewed at www.incitefoundation.ca
—Posted