Shared Conversations: Community Dinner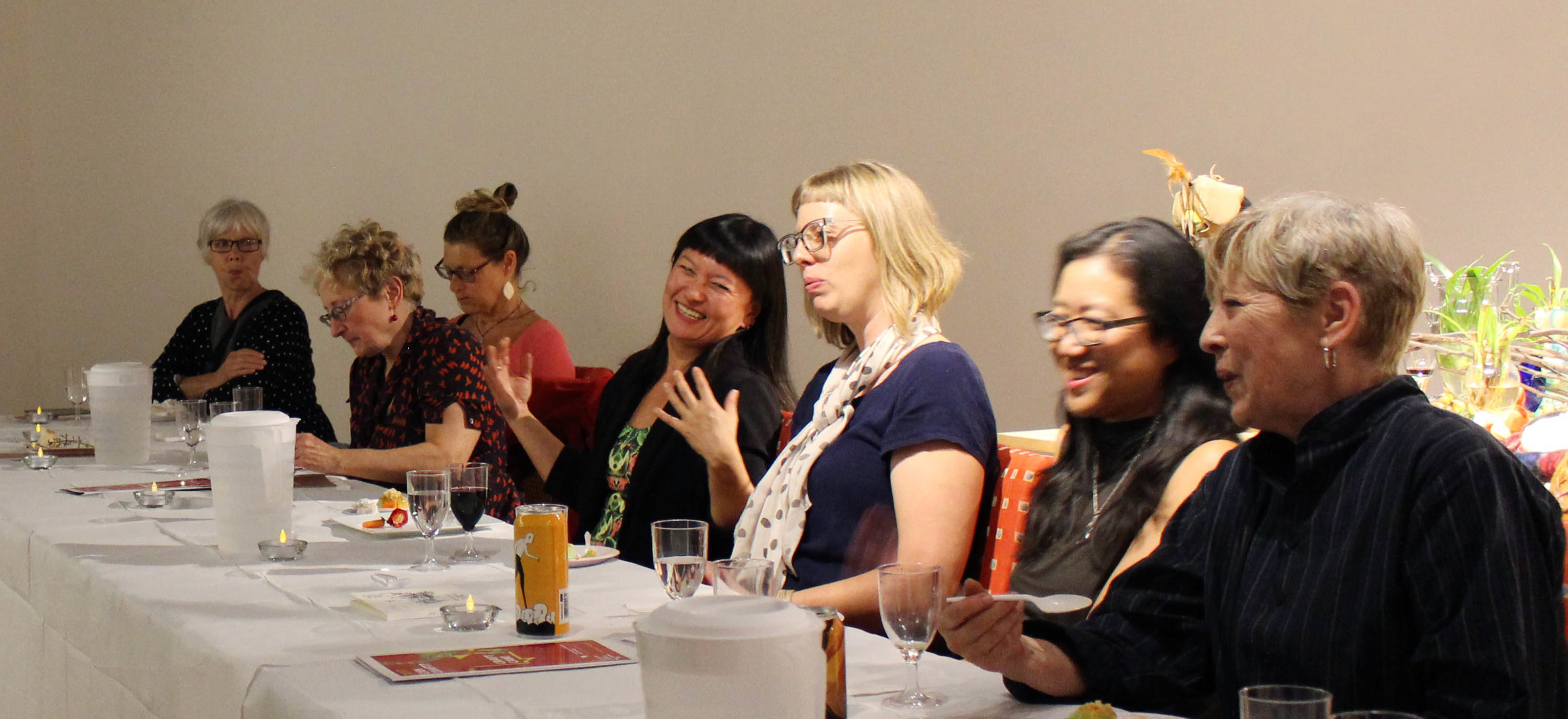 Shared Conversations: Community Dinner
Saturday, October 27 from 6:00 – 8:30 pm
Hamilton Artists Inc. (155 James St. N., Hamilton, ON)
Join us on October 27th for Shared Conversations, a meal and community gathering focusing on discussing gentrification in Hamilton. What are the responsibilities of artists and creatives in addressing economic injustice in the city? How can individuals and organizations support affordable housing advocacy in Hamilton? Whether you've experienced the effects of gentrification first-hand or not, we invite you to join us at the dinner table so we can all listen and share in conversation. All proceeds from ticket sales will be donated to the East Hamilton Rent Strike defense fund.
This event is part of a nationally synchronized dinner taking place at artist-run centres across the country at the exact same time. Hosted in partnership with Locals Only (Saskatoon) and Hamilton Tenants Solidarity Network, the dinner at Hamilton Artists Inc. will focus on collecting recipes and experiences of gentrification and economic injustice in Hamilton, in order to contribute to the ongoing local and national dialogue around these issues.
Please reserve your spot at the dinner table in advance. Tickets are available on a sliding scale ($15-50) through eventbrite and at the gallery with cash or cheque. All proceeds from the event will support the East Hamilton Rent Strike defense fund. A small number of tickets will be available at the door; no one will be turned away for lack of funds. Please note that we cannot guarantee the accommodation of your dietary restrictions for registrations received after October 24.
Reserve your tickets through our eventbrite page HERE.
---
About the East Hamilton Rent Strike:
Since May 1, 2018, more than 100 households from the Stoney Creek Towers in East Hamilton have been participating in a rent strike. Tenants have been withholding rent to protest their landlord's application for an Above Guideline Increase (AGI) in rent and to demand repairs to their units. Tenants understand that this is the first of many AGI applications their landlord is likely to seek, and that if they do not fight back now, they will soon be priced out of their homes. More details HERE.
---
The Hamilton Tenants Solidarity Network (HTSN) is a grassroots initiative that seeks to link tenants from across Steel City in order to amplify our struggles through solidarity and direct action.
Locals Only is a large-scale multi-year project that explores food security, community-based artworks, and intergenerational exchange in Saskatoon's core neighbourhoods.
As part of Locals Only, Shared Conversations will bring together artist-run centres from across the country to host local meals and conversations. The event takes the form of a nationally synchronized community dinner with an aim to gather stories from other communities to contribute to the multifaceted dialogue around issues related to gentrification, intergenerational reciprocity, and food security. It will also aim to bring these ideas into direct contact with artist-run centres and their communities to explore new points of solidarity, community engagement, and an expanded view of artist-run activity. Documentation from these events will be an important part of the project archive, and will be published on the Locals Only website. On October 27, simultaneous dinners will take place at AKA in Saskatoon, Open Space in Victoria, Untitled Arts Society in Calgary, Modern Fuel in Kingston, and this town is small in Charlottetown, PEI.
Header Image from Dinner in Conversation with Emily Jan and Janna Hiemstra, as part of Emily Jan's solo exhibition After the Hunt.
—Posted