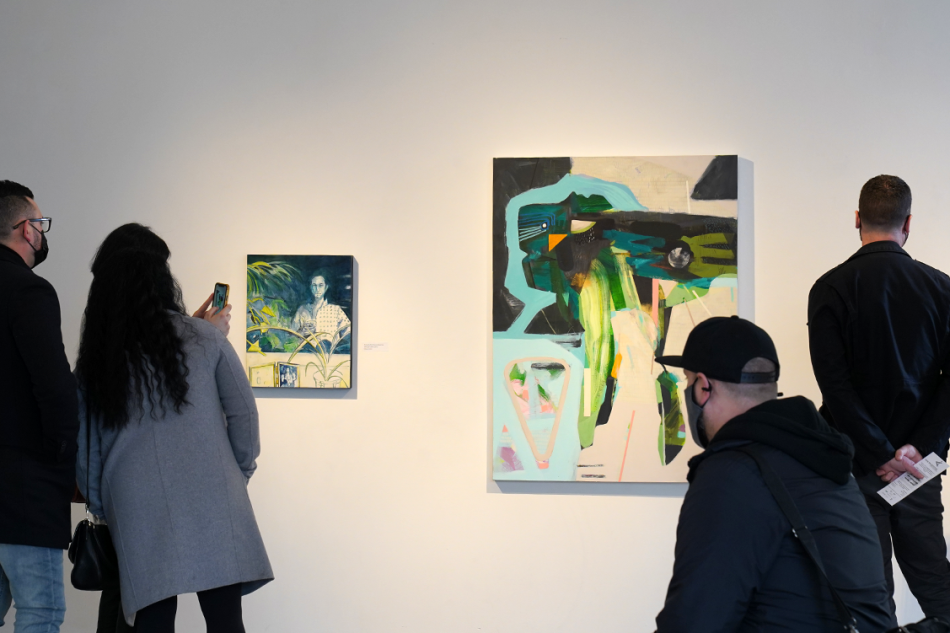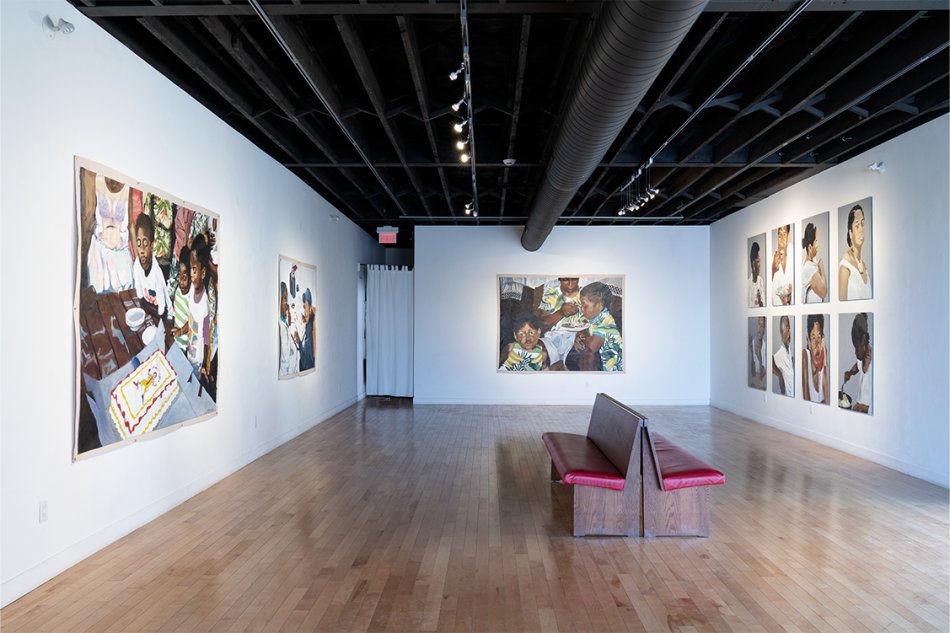 Opening Reception: "Table, Manors" & "Inner Dialogue"
- / The Inc.
Saturday, March 26 from 2:oo-4:00pm
The Inc. is pleased to announce the launch of two brand new in-person exhibitions. We invite our community to come visit us and celebrate the arts for a limited opening on Saturday, March 26 from 2:00-4:00pm at the Inc.
---
About the Exhibitions:
Inner Dialogue is a new exhibition featuring works by Angela Marino, Vick Naresh, and Amanda McKinney Sparrow who each investigate identity through diverse styles of portraiture painting.
Table, Manors is our newest exhibition from Hamilton-born artist Kareem-Anthony Ferreira. The works in Table, Manors reimagines moments from Ferreira's Trinidadian family members' lives, focused around the dinner table. The images of preparing, serving, regarding, and eating food produce a rich exploration of not only Ferreira's memories, but broader themes of colonialism in the Caribbean.
Our capacity for attendance will be capped at 35. Masks will be mandatory during the event and proof of full vaccination will be required for entry.
---
about the artists:
Kareem-Anthony Ferreira (b. 1989 Hamilton, Ontario; lives and works in Hamilton, Ontario) completed his BFA at McMaster University in 2012 and his MFA at the University of Arizona in 2020. Ferreira recently had a solo exhibition at Nino Mier Gallery, Glassell Park and has exhibited works at Johannes Vogt Gallery, New York; Alice Yard Gallery, Trinidad and Tobago; the Tucson Museum of Art, Arizona; DeFacto Gallery, Ontario; and the Workers Art & Heritage Museum, Ontario.
Angela Marino is from Hamilton, Ontario and received her Bachelor of Arts in Studio Art and Art History at McMaster University. She also has a Bachelor of Education from Brock University. Angela is a graduate from the University of Alberta, getting her Masters of Fine Arts in Painting. Working predominantly in acrylics with mix media elements, Angela is primarily interested in exploring the way disease affects the mentality and temporality of the body. Visit: https://angelamarinoartist.com/.
Vick Naresh is a contemporary artist currently working and living in Hamilton, Canada. His ongoing body of work is an exploration in figurative abstraction that delves into metaphorical narratives tackling social contemporary & personal themes like post-colonial displacement & identity in a modernist context. His practice is influenced by a recognizable, yet undefined language of qualifying imagery mixed with geometric configurations & representations of imaginary environments further expanded with the use of visceral colour harmonies. These works index moments of reflection in an immaterial universe, attempting to comprehend the ethereal while superimposing layered memories. Visit https://www.vicknaresh.art/.
Amanda McKinney Sparrow is a practicing artist, majoring in drawing & painting at the Ontario College of Art & Design.  For the past 20 years Amanda has taught art in a variety of capacities, with the majority of that time spent at the Art Gallery of Hamilton and the later at a Montessori School.   Amanda has been an active volunteer with the Women's Art Association of Hamilton, since 2008.