The Problem of Diversity in Hamilton Arts
- / The Inc.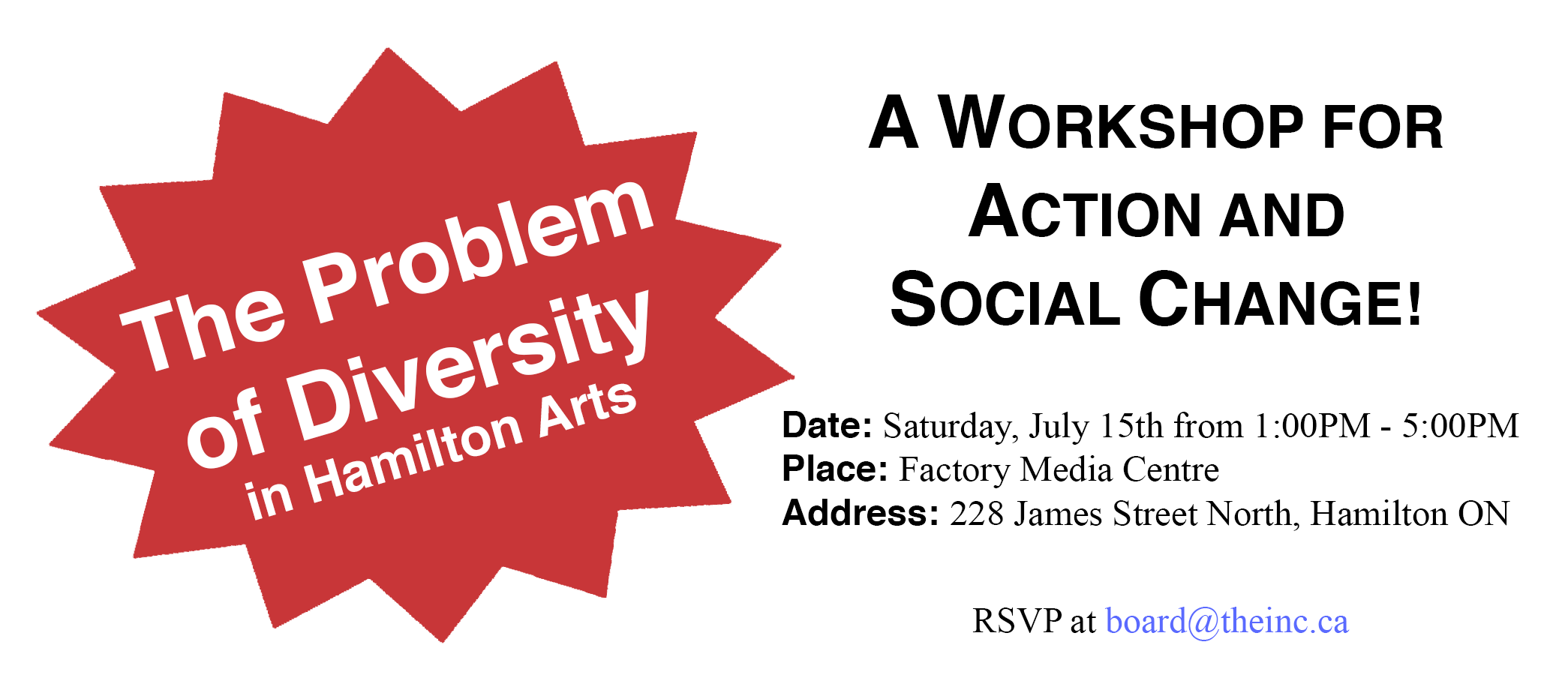 In 2011, articule, an artist-run centre in Montreal, created the Fabulous Committee in order to develop anti-oppression strategies that would make the centre more inclusive, especially of racialized artists, both at the level of programming and internally (members, Board of Directors, staff). Today, a significant portion of articule's programs feature artists from marginalized communities; a larger number of people of colour sit on committees and on the Board; and a majority of the staff is racialized. However, "diversity" is not enough. In fact, the discourse of diversity can be used to maintain the status quo. For real change to unfold, an agenda based on equity and anti-oppression needs to be developed and implemented in order to have a real effect in terms of power dynamics. How can this be done?
Hamilton Artists Inc. and the NEW Committee, in collaboration with Factory Media Centre, invite you to join us for an afternoon of open discussion, skill sharing and workshops around issues as they currently pertain to Hamilton's arts communities. Sophie Le-Phat Ho from articule will be speaking on the "problem" of diversity and how to develop an anti-oppression action plan. We will be learning to develop concrete action strategies to take back to our various institutions and organizations. Representatives from any of Hamilton's arts and culture institutions, as well as the general public, are encouraged to participate!
Date: Saturday, July 15th from 1:00PM – 5:00PM
Place: Factory Media Centre
Address: 228 James Street North, Hamilton, ON
RSVP at board@inc.ca
Sophie Le-Phat Ho is a cultural organizer who grew up in Montreal / Tiohtià:ke and its suburbs. For more than a decade, her work has been about experimenting with tactics for fostering intersectional solidarities through anti-racist feminist organizing, publishing and curating, especially in the artist-run world. On top of having served as the Artistic Director of The HTMlles, the international feminist festival of media arts + digital culture, she has worked at the Daniel Langlois Foundation for Art, Science, and Technology, the Canada Council for the Arts, as well as Studio XX as Programming Coordinator and Editor-in-Chief of .dpi. Her individual and collaborative writings have been published in Vague Terrain, esse arts + opinions, Inter art actuel, ETC, livedspace, Le Merle, among others. She has also served as Guest Editor for FUSE and No More Potlucks.  She is the cofounder of Artivistic and is currently Outreach Coordinator at articule.
The NEW Committee is an Inc. initiative that operates through the lens of decolonization and inter-sectionality, to advocate for equity and inclusivity within our creative communities. Their task is to question and challenge the current institutional structures and hierarchies while proposing and envisioning alternative possibilities. They will work actively to increase the representation of marginalized groups in the arts through community engagement, greater exhibition and performance opportunities, and mentorship. The NEW Committee consists of artists, curators, and educators living and working in Hamilton: Donna Akrey, Abedar Kamgari, Carmela Laganse, Sally McKay, Taien Ng-Chan, and Alana Traficante.
Supported by Hamilton Community Foundation